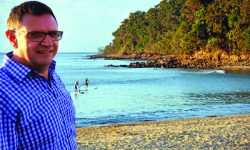 Most of us can't help it – Christmas every year is anticipated by counting down the number of shopping days to the 25th of December and planning what to buy and what to eat. But with only the final touches left to the planning for this year's Christmas Carols and Church services throughout the Sunshine Coast, local Anglican Minister, the Reverend Mark Calder, is challenging us to stop and to find the real meaning of Christmas.
While we all love the food, wine, gifts, parties and holidays this time of the year brings; and we all spend a lot of time working out the how and who of Christmas – who to invite and how will we manage the logistics and the cost of a fabulous festive celebration – Mark said we forget the most important question – the why. "When was the last time we asked why? Why do we do this year after year?" Mark said. "Why does a large majority of the world stop on the same day to celebrate? That "why" has to be pretty significant – and it is. "In a nutshell – God turned up! That's the astonishing reality which Christmas celebrates – God turned up here, on earth, in person in the form of the historical Jesus Christ.
"And we can either believe this story is true – and therefore wonderful – a real reason to celebrate – or if this is not that case, and the story is an outrageous claim – then we should stop perpetuating the claim by anticipating, and then celebrating this date every year!"
Mark said God is the why of Christmas. "We know God is real, we know he cares enough for us to show up and that he knows and understands our world because he lived in it and he suffered in it. He has reached out to us in an extraordinary way – giving us a real reason to party. "But there is also a challenge in this too. Because if God did turn up in Jesus, then perhaps we ought to pay him more attention – that is more than just a once a year celebration or a quick prayer when we are in trouble. "This challenge makes Christmas far more wonderful – if we just stop for a minute and consider the real meaning of this very special time of the year."
Visit anglicanchurchnoosa.org for all our Christmas Eve and Christmas Day services or phone 5449 8009 for more details.
Reverend Mark Calder,
Noosa.