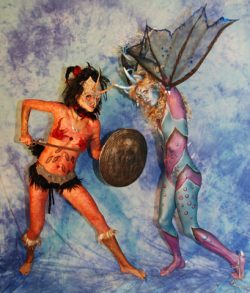 By Hollie Harris
The Australian Body Art Festival will be held again in Cooroy this year on 7 and 8 April, which is only around the corner now.
Formerly the Australian Body Art Carnivale, the festival is first and foremost a celebration of the passionate body painting industry.
In 2017, the event will be run by the Cooroy Chamber of Commerce for the first year. The chamber is committed to ensuring the ongoing success of the Australian Body Art Festival and has enlisted the event management and marketing expertise of Danielle Taylor and the Firefly Solutions team who ran the event for six years.
The theme for this year's festival will be "Wild Things" which provides a veritable feast for the imagination.
With an event as eclectic and inventive as this one, it should come as no surprise that the Australian Body Art Festival has a history as interesting as the art that it produces. Eumundi was introduced to the world of body art by local body painter Ria Clauss, after she made the voyage to the 2007 World Body Art Festival in Austria. The idea blossomed, and over the years the festival has been nurtured by hundreds of passionate volunteers and grown into Australia's premier body art event.
In addition to the competitions, street performers and entertainment is engaged to entertain the myriad of spectators that support this event from year to year.
There are plenty of opportunities for stallholders, models and sponsors to get involved, but there are only 51 more days to register at the early bird prices for all competitions and some of the categories are limited in number. Head to www.australianbodyart.com.au to register.