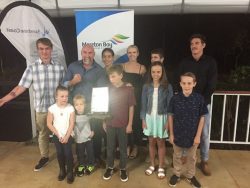 By Ron Lane
Friday night at the Novotel Twin Waters the sporting fraternity from all over the coast gathered to celebrate the Sunshine Coast 50th 2017 Sportstar of the Year Awards. Under the control of Master of Ceremonies former Olympic boxer Ben Pike, it was indeed a top night.
To hold a sporting group together for this period of time is indeed outstanding; and in acknowledging this there are many to thank. However the dedication and input of Ben Pike has been remarkable. Congratulations and well done and many thanks for your 30yrs. of outstanding dedication as President of the Sunshine Coast Sportstar Awards. On your retirement thanks mate, thanks for the memories and the pleasure of your company.
For our local amateur boxing club, the Impact Boxing Academy Cooroy it was indeed a night for celebration. Not only did they win the Junior Sports Club of the Year Award, but in doing so made history by being the first team ever to win this trophy two years in a row.
''Did you hear that," said an excited owner/coach Mark Evans, "We are the first team ever to do this. Man have I got some people to thank." There were many achievements to take into consideration but the fact that team members took part in 144 fights (domestic) for a total of 133 wins plus 20 international for 16 wins is remarkable. Included in these wins were 18 state and 8 Australian titles.
But the club award was not the only one for Ella Boot was named the Junior Sports Star of the Year as a result of her Youth Commonwealth Games Gold Medal and her Bronze Medal at the World Youth Championships. Add to this Taylah Robertson received an Elite Female Sportstar Scholarship as a result of her being selected to represent her country at the Commonwealth Games.
It is definitely worthy of note that the Impact Coach as well as coaching his club in Cooroy was also appointed as an Australian Coach at two World Title tournaments as well as one Oceanic Titles. Now in preparation for the Commonwealth Games, Mark will fly to the Philippines on 17 February as a Coach of the Australian Team for their final international training camp before the games.
While this is underway his Impact Club Team will travel to New Zealand with the club assistant coach to take part in a Trans-Tasman inter club tournament. We wish all fighters boxing for their clubs or country the very best of luck.