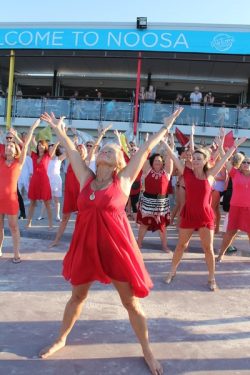 By Hollie Harris
Anyone who loves to move, groove or take a stand against domestic violence is invited to join rehearsals for the annual One Billion Rising.
Every year a dedicated group of more than 100 dancers practise a choreographed dance to perform for residents with this year's performance to be held on Friday 17 February.
One Billion Rising was started in 2012, and is a global movement to end rape and sexual violence against women.
The "billion" refers to the United Nation statistic that one in three women will be raped or beaten in her lifetime, or about one billion.
Rehearsals are underway and you can join in on this global movement created to stop violence against women.
The One Billion Rising event is next Friday 16 February 5-6pm on the Noosa Surf Life Saving Club beachfront and if you want to take part, just jump in on the rehearsals.
They are all free, all fun and all are welcome. No prior dance experience necessary and remember to wear red, white or black to join in the fun.
Rehearsals are at:
Noosa Leisure Centre Wallace Drive Noosaville
Saturday 10 February, 11am-12pm
Monday 12 february, 1-2pm
Wednesday 14 February, 6.45-8.45pm (full dress rehearsal)
Anytime Fitness Cooroy
Monday 12 February, 10-11am
Pomona Memorial Hall
Monday 12 February, 10.30am with Cathy Tapper after Zumba.
Anyone is welcome to take part, so why not join the rise. For those who would love to go along and support the dancers and watch the performance, the main event is Friday 16 February 5-6 pm at the Noosa Surf Club beachfront.
Enquire with Peppy on 0408 197 879.