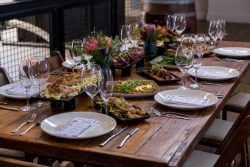 By Hollie Harris
The Imperial Hotel Eumundi is renowned as one of jewels in the Noosa hinterland for weddings or corporate events.
When it comes to planning their menu, guests can choose from a wide selection of classic and contemporary canapés or a more traditional alternative drop service of entrée, main and dessert for a fine celebratory dining experience (the choices on offer will have you drooling).
The hotel has recently launched a new alternative for sit-down dining called 'Kinsfolk Dining' – a hinterland-styled banquet dining experience for tables of ten.
Head Chef Cale Dempsey says the shared foodie experience is relaxed and contemporary – and allows guests to sample more dishes.
"With tables sharing a number of entrees, mains as well as sides and salads, guests get to really enjoy a great range of local flavours", he says "They get to choose exactly what they want to eat from a fabulous range of options before them, and no one suffers from food envy!"
The Kinsfolk dining entrée options are vast but include Duck spring rolls with namjim dipping sauce; Mini sirloin crostini with mustard seed béarnaise; Grilled baby octopus with romesco, rocket and lemon; Beetroot and goats cheese tartlets with snow pea tendrils; and Chargrilled prawn skewers with lime and ginger soy.
There's also a wealth of Kinsfolk Dining mains, including Eye fillet medallions with slow roasted garlic puree, crispy fried leeks and balsamic jus; Lager and thyme roasted chicken breast with lemon infused jus on parpadelle; Salmon with shaved fennel and a dill and orange dressing; or Chickpea and roast eggplant tagine.