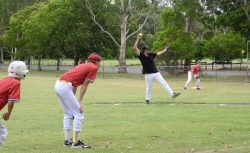 Noosa softballers are looking forward to continuing the second half of the season after rain washed out games on the weekend. This side of the draw got under way on the Australia Day weekend with some new players and new game times.
In the U15s, Slammers played Dodgers1 in a friendly match on a slippery field after the morning's downpour. Strong batting from Dodgers saw them score 12 runs to Slammers' 2.
In the second U15s match, Redsox defeated Dodgers2 7-0.
In the U13s, the undefeated Slammers defeated Redsox 16-3 and showed great batting skills, especially from Coopa, Cam, Lewis, Clae, Nate, Tex and Xander. Slammers scored eight across the plate for the first two innings before being held at bay by great pitching from Erin. Erin also had two beautiful pick-ups, gently throwing to first for two outs. The second Redsox pitcher-catcher combination of brothers Dylan and Nathan worked well. Redsox newcomers Joel and Ryan also showed great batting skills.
Matches are played in Under 13s, Under 15s and Under 17s in the junior competition, while Little League provides coaching for players from 4 years.
There are still places available in all age groups for any new or experienced junior boys and girls and senior players who would like to join softball for the second half of the season. Fees for juniors will be reduced to $100 for players who start now – this covers all your playing costs including club jerseys, registration, equipment, coaching and game day costs. The season continues through to Easter.
Men's and mixed social games are played on Saturday afternoons, and a women's game is also played fortnightly. For information, please email noosasoftball@gmail.com or search for "Noosa softball" on Facebook.