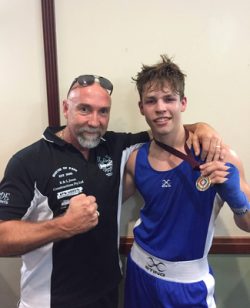 By Ron Lane
To say that the last three weeks have been busy for Cooroy amateur boxing coach Mark Evans would have to be the understatement of the year. Apart from being the owner /coach of the Impact Boxing Academy he is also the assistant coach for the Australian team to represent us at the forth coming Commonwealth Games.
As such he was required to be in attendance to conduct classes in the Australian training camp which is located in Baguio, summer capital of the Philippines. ''The reason for this," said Evans, "is to get our boys out of their comfort zone and also give them sparring against some of the best small men in the world. Our team members above 69kg. were sent direct to the Colorado Springs Olympic Training Center in the USA. It was impossible to get big sparring partners in the Philippines; and this part of the program is the key to success."
Conditions as compared to Australian camps were indeed Spartan but the hospitality was first class. The training was intense with three sessions a day six days a week; time off started midafternoon Saturday and included all Sunday. "The training was brutal as the local lads don't spar they fight. To hold their position in the national team depends on their performance in each session,"said Evans. "I had to warn our boys about this and tell them to be aware."
Also training in the camp was Noosas British Commonwealth Champion Ella Boot. Ella who is a member of the Australian Youth team has been selected to fight in the very prestigious Felix Stern Cup in Poland at the end of the month. We wish all team members good luck.
After spending two weeks in the camp Evans was obligated to return to his gym in Cooroy as his team of seven locals were about to contest the Queensland titles. His return paid dividens as the squad returned home with five gold medals and two silver. The gold medal winners will now represent Queensland at the Australian titles in Perth later this month. Amongst the winners was Kieran Whitehead whose fight for the gold was judged the fight of the night. Also amongst the winners were Keana Welch and her brother Connor who box for the NBO club under coach Israel Kani. The winners of Australian titles will be eligible to represent their country in the three major youth world tournaments; the Oceanic in Samoa in April, the Youth World Championships in Hungary in August and the Youth Olympics in Buenos Aires in October. Good luck to all.