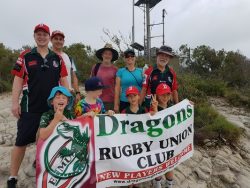 By Doug Toms
A group of intrepid members of the Eumundi Dragons Junior Rugby Union Club aged from five to 65 years set off in the early morning light on Saturday to ascend Mt Coolum for the first of the season team building events.
Fully kitted out in good walking shoes, sun protection, water bottles and plenty of mosquito repellent they were able to get to the top of the mountain in about 45 minutes, going at a steady pace and enjoying the scenery.
At the summit the walkers had a magnificent view of the coast from Noosa to Maroochydore and all places in between.The younger members of the group were extremely interested in some of dreamtime stories giving some explanations regarding the formation of Mt Coolum, Mudjimba and the Maroochy River.
To top off a great morning all members of the party drove to Coolum Beach to enjoy a BBQ breakfast in the park just north of the surf lifesaving clubhouse and those who were prepared with togs and surfboards also enjoyed a quick dip in the Pacific Ocean.