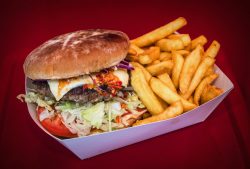 By Hollie Harris
You are about to have the best taste sensation that money can buy. Beloporto's mission is to ensure a beautiful food experience every time and the locals are loving it!
Located on Thomas Street, Noosaville, these guys know that the best food is made from fresh, natural and local ingredients and you can taste it in their burgers.
Passionate chefs and cooks who actually love eating the burgers themselves genuinely want diners to get everything they want in the best burger – a hearty size, super tasty, affordable and fast.
Meal Deals which include a burger, chips and a drink for just $13.95, Beloporto is keeping it real all day long.
Locals are raving about this place and word on the street is hearty, healthy value for money.
Using the freshest produce, which has been handpicked by local producers, and chicken which is naturally hormone free, their burgers offer an extra flavour sensation. they grill, not fry and use fresh, not frozen.
Beloporto's chicken is hormone and antibiotic free and they make all of their sauces fresh in-house. The aioli is delicious and if you like it spicy, you must try their signature hot chilli sauce made from a secret recipe that will have you coming back time and time again.
Belo Strips are a tasty option using Marinated chicken tenderloins. These are perfect with a Belo Salad as an alternative to a burger and chips meal.
The winning combination of genuine passion for food, fresh produce, and extra special sauces makes your dining experience at Beloporto right on the money, every time.
Located at shop 2, 14 Thomas Street, Noosaville, drop in and check out their no-fuss, great value burgers from 9am-9.30pm, seven days a week.
In a rush? Jump online at www.beloportonoosa.com.au and order with pick-up in just 15 minutes.