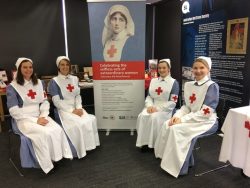 The Tewantin Noosa Branch of Australian Red Cross is hosting a celebration of Australian womanhood who represented selfless, patriotic service by providing a vital contribution to the comfort and support of serving and returned ANZACS. In 1915 a vast army of Red Cross women volunteers were formed into a national scheme for voluntary aid detachments (VADs). In 1926 VADs were formally recognised as a technical reserve of the Army Medical Corps.
The Branch celebration is a Classic High Tea at the Laguna Retirement Village, on Friday the 27th of April, commencing at 10.00 am. Guests will enjoy an opportunity for socialising and being entertained by the Classical Singers. The Red Cross guest speaker, Louise Keir, Team Leader of the Archives Volunteers in Milton, will provide a presentation of the history of the Voluntary Aid Detachments, including a parade of authentic replicas of the original uniforms worn by the VADs.
A limited number of tickets are available for purchase, the cost is $20 a ticket. Please phone Jan on 5474 0636.