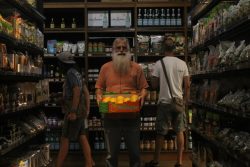 By Hollie Harris
Owner Uwe Wullfen has 20 years of experience in the organic industry and is passionate about organics.
At Bio Shop Noosa, we source our products from only the best organic producers, with fruit and veg direct from local producers, and grocery items from the best in Australia, and importers from New Zealand, USA and Italy.
All products are either certified organic to the highest national and international standards in their country of origin, or are whole foods of the highest standard.
Bio Shop is excited to introduce our monthly Market Day on Saturday 17 March from 10:00 am – 2:00 pm. Spend over $50 in a single purchase on the day, and you go into the draw to win a free organic hamper.
We will have local producers providing taste testing of their unique products.
For our March Market Day we are proud to welcome Mighty Bean Tempeh, Nourishing Whole Foods, Truly Indian, The Green Addict, The Vegan Dairy and Meredith Yoghurt and Cheese to demonstrate their products.
If you are a regular shopper with us, have you signed up for our loyalty membership card? This entitles you to a 5 percent discount every time you shop.