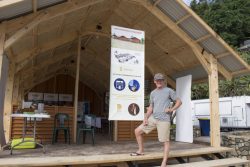 By Margaret Maccoll
After establishing two of the best-known and most successful international surfboard brands Nev Hyman has turned his hand to solving the world's problems of waste and low cost housing, a move he described as "far more exhilarating".
From 1982 to 2005 he developed Nev Future Shapes to become one of the world's five top surfboard brands. Then he took on Firewire Surfboards and after 10 years development sold the business two years ago to surfer Kelly Slater.
"I was a bit bored with it," he said.
Nev has surfed in some of the most pristine beaches in the Pacific but in New Caledonia in recent years was shocked to find beaches degraded by rubbish.
So he invested in a plastic recycling plant and using methods similar to surfboard making turned the waste into products such as shipping pallets and bollards.
These proved difficult to market but "as soon as (he) started making houses everyone bought into it," he said.
For the past five years Nev House has been developing house structures in research with the University of Woollongong with waste and sustainable timber.
The building product can also be infused with anti-malarial, anti-microbial and flame resistant products.
During Noosa's Festival of Surfing New House erected a display house in just one day at Main Beach.
As a portable house it has wide-ranging potential for use for refugees and post-disaster situations.
For Nev plastic is a resource. "It's not evil. It's the improper disposal that's happening that's the problem," he said.
He has a plan that deals with the burgeoning issue of waste disposal and is building a facility on the Gold Coast to construct 10,000 houses a year from its existing transfer station.
"We could retrofit every waste transfer station," he said. "It stops waste going to landfill. It stops waste being incinerated. I know we can do that."
His idea has won praise around the world and solid backing and he is well on the way to rolling it out globally.
The Nev House won the Good Design Awards in 2016. Out of 25,000 companies that applied to HRH Duke of York Prince Andrew's Pitch@Palace Nev House was selected in December 2017. Nev has had discussions with Prince Charles and the Gates Foundation and has had orders from across the world including the Middle East where he is helping to set up a company.