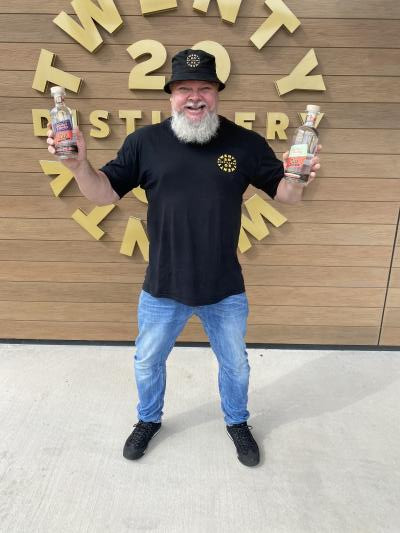 Sunshine Coast distillery, 20 20 Distillery, has impressed judges at the 2021 Australian Gin Awards with its East London Dry and George gins taking home a gold and silver medal respectively.
Hosted by the Australian Gin Distillers Association Inc., this year's Australian Gin Awards saw 370 gins submitted for judging by 109 Australian and 11 New Zealand companies.
20 20 Distillery's East London Dry, distilled using the finest botanicals including Macedonian juniper, coriander, cassia bark, angelica, orris root, citrus and cardamom, won a gold medal in the Classic Dry Gin class.
A silver medal was awarded to 20 20 Distillery's newest gin release, a navy strength gin affectionately named George after founder and distiller Brian Bedding's grandad who was a stoker in the Royal Navy during the Second World War, in the Over-Proof category.
Brian, a Cooroy local, is absolutely ecstatic with the awards.
"We're absolutely thrilled that our gins have been so well received by the judges and that we've come home with a gold and silver," Brian said.
"Our East London Dry is our signature gin, and my personal favourite, so it's just amazing that it's been recognised within the industry as one of the best Australian gins right now."
"Similarly, George has a special place on the 20 20 Distillery shelf given its back story so for it to win a silver is very meaningful too."
20 20 Distillery has been impressing locals, tourists and gin aficionados alike with its premium spirits since opening its doors to thirsty customers in December 2020, and is set to launch a new gin next month.
The award-winning gins, along with a range of other products including Queensland's first Gin Seltzer, are available to purchase online at 2020distillery.com.au or from the Tasting Bar located at 5 Taylor Court, Cooroy.