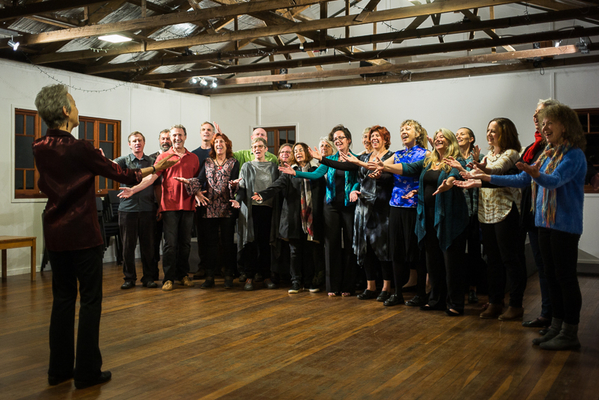 Local Queensland choirs from Maleny, Maroochydore, Pomona and Mt Nebo have spent the last seven weeks learning the arrangements and harmonies of five songs for a live show from Mama Kin Spender's 2018 ARIA-nominated album, Golden Magnetic.
This live show takes the soulful sounds of Mama Kin Spender and couples it with the harmonies of community choirs to create an immersive live act that sings of stories, people, and joy in a special one off local community event.
Over the course of the preparation, local Choir Masters have working along with Mama Kin Spender and Melbourne based Choir Master Virginia Bott. Bringing together local singers to work directly with touring artists helps create reciprocal relationships between artists and the local community and a deeper way of activating performances.
Danielle Caruana said, "We no longer wanted our touring experience to be us performing to a community, we wanted to be with the community in a more meaningful way. This project engages local community choirs to join us on stage as we tour around, becoming somehow a platform for the community to enjoy contemporary music and celebrate itself all at once."
Deeply inspired by the health and social benefits of community singing and choir performance, Danielle and Tommy together with these choirs are excited to deliver powerful and rich performances, unique to each town.
Mama Kin Spender Ft. New World Rhythm and Mouth Orchestra will perform at Nambour Majestic Cinema on 14 September. Mama Kin Spender Ft. Insingc Choir will perform at Valdora Community Hall on 20 September. For more information visit www.mamakinspender.love.