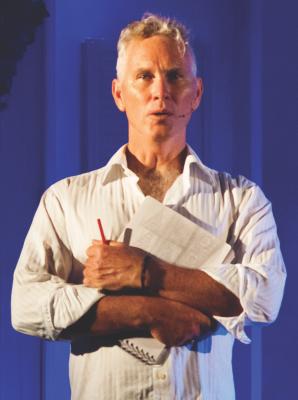 By Abbey Cannan
The opening night performance of Noosa Arts Theatre's Mamma Mia was an absolute hit amongst the crowd, with every audience member getting up on their feet.
Director David Williams allowed every cast member to shine, turning them into the perfect vessels for ABBA's enduring music.
The Greek Island backdrop set the scene for a vacation-like experience, flying you to another magical place while still keeping two feet flat on the ground in Noosa.
Jo Hendrie is Donna Sheridan, a Donna with a powerful voice and overalls to impress. The motherly love of a single mum who worked hard to raise her daughter and run a business wasn't going to be effected by three dad's showing up the day before the wedding.
Frank Wilkie is Sam, the architect and one potential father to Donna's daughter Sophie, played by Teyla Brim. Teyla was a star with an incredible voice and professionalism in her performance.
Bill, played by original cast member Danny Fritz, brought the laughs with Stephanie Larmans' Rosie, one of Donna's best friends, who knew how to playfully entertain the crowd.
Harry, played by Robert Boesch, gave the sweet touch to the production with a perfect representation of the character.
Donna's other best friend, Tanya, played by Alison Venning received an overwhelming response from the audience.
Her rendition of "Does your Mother Know" sung to Matty Johnston's Pepper, one of Sky's cheeky best friends, left the crowd cheering, whistling and laughing.
The show was a well put together production, with seamless transitions in between sets, a great director, entertaining choreography, and an amazing cast to match.