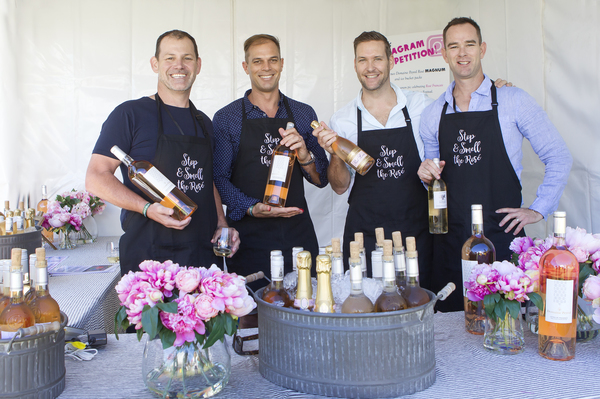 By Abbey Cannan
Whether you're a sweet tooth or into your spirits, there will be something for everyone at this years Noosa Food and Wine Festival on Saturday 18 and Sunday 19 May.
Do you have a sweet tooth?
If you're a sucker for the sweet stuff then the Festival Village's all new Baci Sweets Masterclasses are an indulgent experience you do not want to miss. Some of our favourite dessert connoisseurs, including Adriano Zumbo, Anna Polyviou, Kirsten Tibballs, James Metcalf, Luca Ciano Daniel Rahilly as well as Phoebe Wood and Warren Mendes from Delicious will be sharing tips and tricks on their sweet creations across the weekend. The Masterclasses cost $35 per class and are only available for Festival Village ticketholders.
Love your savoury dishes?
Some of Noosa's best restaurants will be dishing up great food across the weekend. We've had a sneak preview and can confirm there will be everything from Café Le Monde's Fresh shucked lake Wapengo organic oysters, Embassy XO's famous Steamed Duck Buns served with sriracha chilli sauce, Vilage Bicycle's fish tacos and Sum Yung Guys roti with satay sauce amongst other amazing dishes.
Love Red, White, Sparklings and Rose?
It's not a food and wine festival without great wines. At the Festival Village you will be spoilt for choice with a wide range great wineries showcasing their specialities. It's not just about sipping wines of course, there is plenty of opportunity to learn from some of Australia's best winemakers and industry experts. Learn from three-time Australian Sommelier of the Year Banjo Harris Plane as he explores the globe in search of new and exciting wines from countries we'd least expect in a Drinks Lab session in the Festival Village or learn how low alcohol cocktails are a great way to enjoy drinks at home with Luke Ashton in the Cocktail Spritz session (Drinks Lab Sessions are $45 and only available for Festival Village ticketholders).
Into Your Beers?
The Craft Beer & Cider Corner in the Festival Village is the place to be across the weekend with crowd favourites Stone & Wood, working alongside some of Noosa's best craft brewers including Boiling Pot, Brouhaha Brewery, Diablo Ginger Beer, Heads of Noosa Brewing Co an Land & Sea. There is also limited tickets still available for Locally Crafted Noosa on Thursday 16 and the Noosa Brewery Trail on Friday 17.
Love your local produce?
Meet some of the best food and drink purveyors from the Noosa region and right across Australia in the Providore on Hastings Pavilion including: Barenuts, Big Heart Bamboo, CC's Kitchen, Cobram Estate, Cooloola Berries, Deadly Espresso, Hum Honey, Kokopod Chocolate Australia, Lindols Macadamias, Roza's Gourmet, Salumi Australia, Slow Food Noosa & Taste of Noosa Cookbook, The Fermentary, The Pumpkin House, Ugly Duck Preserves, Woombye Cheese Co. and other producers.
Love Your Spirits?
The River Lounge in the Festival Village on the weekend will feature Four Pillars Red Snapper Brunch and Smoke on the Water in ode to World Whisky Day whilst The Drinks Lab has great sessions at $45 per class (requires Festival Village entry). And in the Festival Village there will be plenty of opportunity to discover the tastes of spirits with Brookie's Gin, Four Pillars, Husk Distillers, Spirts Platform and Starwood Whisky all on show.
Care about the environment?
The Noosa Food & Wine Festival team are changing their own practices to create a truly sustainable event experience. They have partnered with Plastic Free Noosa to continue to eliminate single-use plastics, reduce plastic waste, implement composting and help educate patrons to deliver as sustainable a Festival as possible. They have also committed to composting their disposable alternatives! All the food and the packaging used by the Festival Village vendors are composable products which will then be delivered to the Festival composting partner to turn as much of the festival waste back into dirt for our farmers and environment and diverting it from landfill.
They have also provided some handy tips for festival visitors:
– Don't Print Your Ticket! No matter which Noosa Food & Wine Festival events you're heading to in 2019, you don't need to print your ticket! Just show your ticket on your mobile and they can scan it from there.
– Get Yourself Sorted! While you're in in the Festival Village, make use of the garbage, recycling and compostable stations correctly. Don't worry if you are not sure which bin to use? Make sure to inspect the signs at the stations or ask the friendly Waste Warriors who
– Refill and Reuse! Every Festival Village ticket includes a reusable and recyclable BPA free glass from our Eco-partners Globelet! Use it in the Festival Village to try out new drinks and sip on your favourites, rinse and reuse. Don't forget to take it home with you!
– Back to Tap. Plastic Water Bottles have been eliminated from the Festival Village! Simply use your festival cup and grab a drink of water from Unity Water's free water refill station or BYO bottle.
– Jump on a Bus! A complimentary shuttle bus will run for festival attendees between the Noosa Junction and the Festival Village on Saturday 18 and Sunday 19 May.
– Plastic Bag Free! Make sure you take a small reusable bag from home to carry all your treasures as the Festival is plastic-bag free.
The Essentials
 The Festival Village will open Saturday 18 and Sunday 19 May from 10am – 8pm
 The Festival Village is an all-weather event
 Getting to the Festival is easy thanks to the complimentary shuttle bus running between the Noosa Transit Centre, The J in Noosa Junction and the Festival Village in Noosa Lions Park on Saturday and Sunday
 The Festival is a cashless event so bring your debit card, credit card or phone and tap and go!
 Book now and save or pay $41 at the gate on the day
 $1 from every entry to the Festival Village will support 'Trees for Tourism' supporting Noosa & District Landcare's rehabilitation initiatives, in particular the Noosa Trail Network Revegetation Project. Your contribution as part of the Festival Village ticket price will help provide shade trees for walkers, assist with erosion and improve the habitat for local wildlife species.
For the full program and to purchase event tickets visit www.noosafoodandwine.com.au