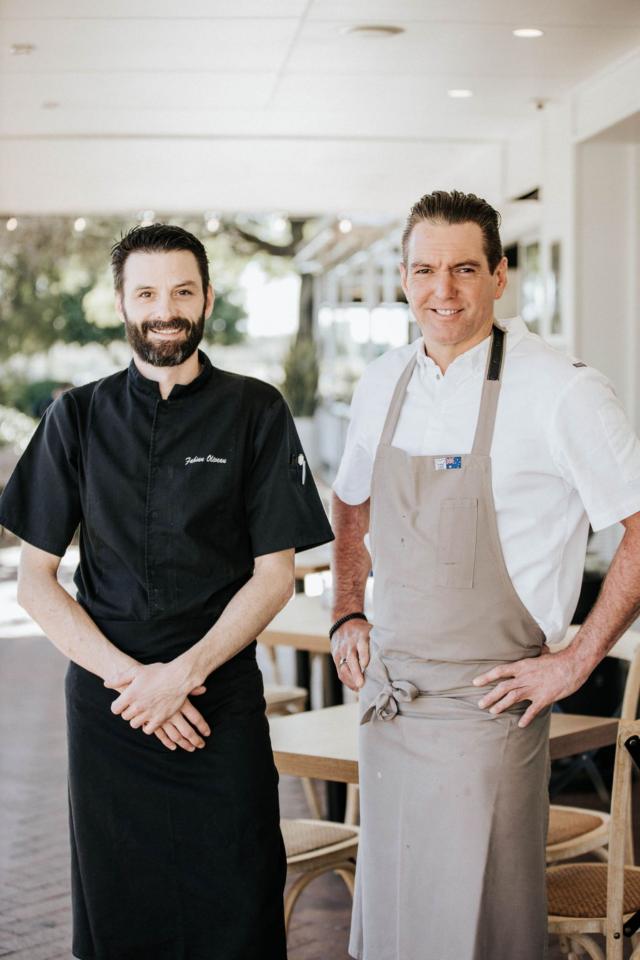 By Abbey Cannan
Over three days of spectacular dining, Frenchies Brasserie Noosaville's head chef Fabian Oliveau welcomed his friend and world-class chef, Justin North, into the kitchen to produce a truly mouth-watering menu.
Having worked together at the iconic Centenial Hotel in Sydney, Fabian and Justin clearly knew how to bring the best out of each other as they came together again to delight Noosa guests.
Well known for his appearances on MasterChef, Justin was named 2009 SMH Chef of the Year, is the author of award-winning cookbooks, and his restaurants have been awarded some of Australia's top honours.
During his stay in Noosa, the chef immersed himself in the foodie scene, trying an array of cuisine from Alba by Kuruvita to the local backpackers.
When he wasn't tasting the creations of others, Justin spent his time in the kitchen working hard with Fabian to prepare some exceptional dishes for the crowds.
Those who were lucky enough to score a table at Frenchies for the Cooking with Friends event, ​from 28 to 30 April, were able to choose from a la carte or a set menu created by Justin and Fabian.
​We were greeted by a warm ambience and attentive staff, deciding it would be silly not to try the full four course menu, which was well priced for a special occasion at $105.
For a 24-year-old coast girl who's usual week-night dinner includes avocado toast or sharing leftovers with her roommates, this definitely was a special occasion.
Now, your value in my opinion may have fallen after hearing about my regular dining experiences, but I was with an Aussie-Italian boy from Melbourne who tends to eat just as much as the wine he drinks, and for once he was not left hungry.
Instead, he left full of ravioli, Wagyu, parfait, red wine, Cognac, and a smile on his face after thanking the chefs.
The smile could've very well been because of my great jokes and the fact that I let him drink most of the wine, but I'm going to assume it's because it was one of the best meals he's ever had.
Although, his favourite meal is probably his nonna's pasta, but my granny hasn't cooked for me in a while (pick up your game Lorraine), so I can confidently say it was the best meal I've tasted in a long time.
For entree we had a scallop and prawn ravioli, with a verbena sand crab bisque.
My favourite dish, the main, was a roast Wagyu flat iron, with a parsnip puree, golden shallots, Sarladaise potato and Bercy sauce.
When I saw the pre-dessert on the menu I was delighted to find out that it's acceptable to have two desserts, and to cleanse the palate was a Kaffir lime and mandarin parfait with pineapple granita.
To finish, the main dessert was a chocolate and earl grey tart with macerated figs and mascarpone.
After this experience I now understand the true meaning of fine-dining, and will no longer be accepting a pub meal or takeaway fish and chips for a date. Sorry boys.
Keep an eye out for Frenchies Brasserie Noosaville's upcoming events at frenchiesbrasserie.com.au/noosa/