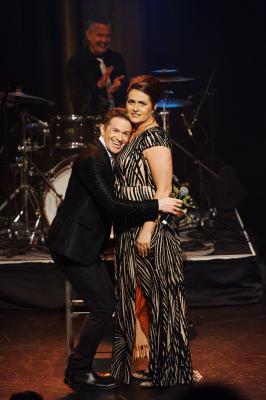 By Jacqueline Trewin
Local performer Susanne Campbell showed it isn't only Barbra Streisand who can pack a theatre to rounds of applause.
It was a full house at The J last Saturday afternoon when Ms Campbell presented Funny Girl, The Barbra Streisand Story – her personal homage to the American icon who turns 80 next year.
Ms Campbell is no stranger to the Sunshine Coast music scene. As member of popular local trio, The Kitty Kats, she swapped her sultry leopard print for sophisticated elegance in bringing Babs to life on stage as you've never seen her before.
Dressed to kill in a diamante black velvet gown, the lifelong Streisand fan carried herself with unmistakable poise. And from the moment she performed her first song, As If We Never Said Goodbye, she had the audience enthralled.
Together with musical theatre artist, Simon Chamberlain as co-narrator and cheeky sidekick, the singing duo took fans on a 50-year journey of Streisand's career from the Bonsoir Club in the early '60s to her work with Stephen Sondheim on The Broadway Album.
Other highlights of the show were the versatility of the live band, covering an extensive repertoire, with highly acclaimed musical director, Pete Kelly (keyboards), Brendan Scully (bass), Brett Newman (drums) and Ric Halstead (flute, saxophone, clarinet).
Ms Campbell pulled off the gig with depth, covering hits from the highest selling female recording artist of all time, one including People from the film, Funny Girl, that struck a powerful chord in a Covid world.
Another showstopper was her moving rendition of Papa from Streisand's award-winning film, Yentl, which Campbell dedicated to her late father and musician, Kenneth Orrell who passed away this year.
But there were uplifting moments of Brooklyn banter thrown into the mix thanks to the comedic chemistry between the two. And when Chamberlain transformed into drag queen, Barbra-a to perform the duet, No More Tears (Enough Is Enough) with impressive falsetto, the audience roared with laughter.
Following the interval, Campbell, adorned in a divine black sequined gown, sang her favourite hit, Woman In Love with incredible vocal range, followed by What Kind of Fool – both hits sung with Chamberlain as Barry Gibb from Streisand's most successful album, Guilty.
When they finished the last song, it wasn't enough for the audience who screamed "encore!" With Happy Days are Here Again sealing the deal, an adoring fan gave flowers to Ms Campbell onstage amid a crowd who didn't want it to end. Send in the clowns.
Repeat performances of Funny Girl – The Barbra Streisand Story will be on 23-24 October – Twelfth Night Theatre, Bowen Hills. Every ticket purchased is donated to the Lady Musgrave Trust in support of life saving services to vulnerable women, and their children.
For more information enquire at Melly Melody Entertainment: mellymelody.com.au/funny-girl-the-barbra-streisand-story/