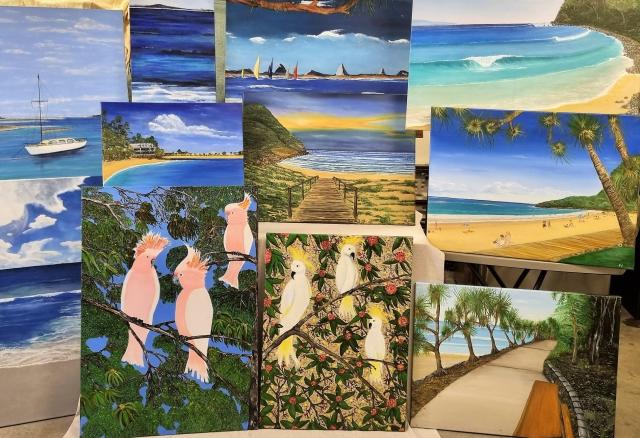 Former business owner and corporate sales manager Robin Ramage will be holding his first ever art exhibition at the Tewantin Noosa Community Bendigo Bank Art Space from Monday 13 November until Friday 15 December.
He began taking art seriously during the pandemic, using painting as a form of meditation.
"After searching the internet for online art courses, I discovered Scott Christensen Paint the Ocean and his art literally spoke to me," Robin said.
"The online courses and Scott's tuition are very easy to follow and they are designed to inspire and create your own colourful creations. I've found I have used both Scott's and my own style of painting to create some vibrant local beach scenes that are easily recognised."
The Sunshine Coast and Noosa have always been Robin's favourite places, being inspired by the colour and beauty of the beaches and the Noosa River precinct.
"I hope my paintings reflect the passion I have for the area," he said.
"Inspired by Noosa is a collection of my work that I am proud to present and I'm also very fortunate that the Bendigo Bank Art Space have allowed me this opportunity to show my art in a public venue," he said.
"My art is simple, I work with both acrylic and oil to create both colourful and bold scenes whilst others are more subdued and serene."
Having had only minimal tuition in the past, he's considered himself a novice and never considered becoming or being called an artist.
"There is a great art community in the area which has groups from the beaches to the hinterland and I'm looking forward to becoming more involved with them," Robin said.
"Having recently rearranged my garage I now have a small area setup for a little studio where I find time just disappears as the colours flow onto the canvas."
Robin's exhibition will be at the Community Bendigo Bank Tewantin Noosa Art Space, 114 Poinciana Ave Tewantin from Monday 13 November to Friday 15 December with all paintings available for purchase. He will also be at the art space every Tuesday and Thursday between 11am and 1pm.