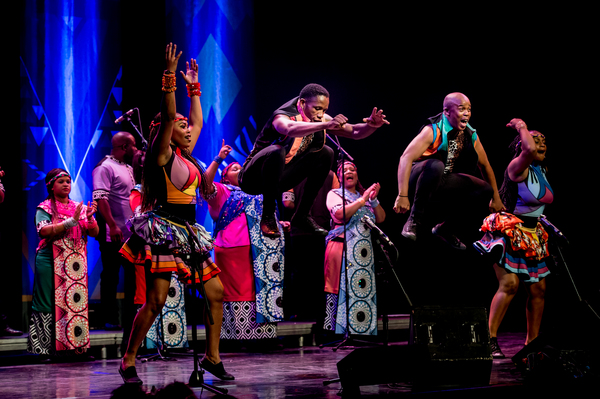 The Soweto Gospel Choir are coming to Noosa this month with their Freedom Tour in honour of the father of their rainbow nation, Nelson Mandela, and South Africa's struggle for freedom.The three-time Grammy Award-winning Soweto Gospel Choir has been spreading sheer joy to audiences across the globe for nearly two decades. Comprised of the best artists in South Africa, the choir invites you to enjoy the incomparable and inspirational power of African Gospel music.For the first half of this concert, the choir will perform "Songs of the Free," a rousing program celebrating the centenary of the birth of Nelson Mandela. Following that, the performers will share international gospel classics including their hair-raising take on Leonard Cohen's "Hallelujah." "We hope that our uplifting message of hope, faith, and joy reaches audiences new and old on this special return visit as we celebrate the legacy of the great Nelson Mandela," producer Andrew Kay said.
Filling the stage with vibrant costumes, incredible vocals and uplifting songs, Soweto Gospel Choir is 90 minutes of indisputable bliss, leaving audiences exhilarated as they dance in the aisles. The choir performs in six of South Africa's eleven official languages with rich harmonies and earthy rhythms.
Soweto Gospel Choir – Freedom Tour will be on at The J, 60 Noosa Drive, Noosa Junction on Wednesday 31 July and Thursday 1 August at 7.30pm.
Tickets: Adult $84.90 / $77.90 Concession (Pensioner, Senior Card, Student) / $49.90 Child 12 and under / $65.90 Group of 8+
Book: www.thej.com.au phone 5329 6560 or Box office 60.