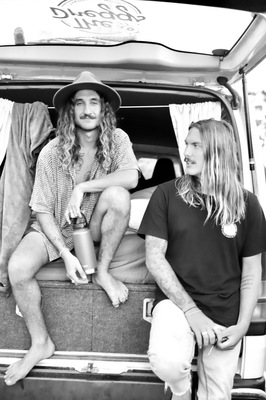 By Abbey Cannan
Popular Sunshine Coast bands The Dreggs and The Chats will be making a comeback from the coronavirus pandemic as they headline the region's first all ages drive-in music festival.
Airwaves blasts off just a half hour drive from Noosa at Nambour Showgrounds on Friday, Saturday and Sunday 10-12 July, complete with an 'Outer Space' theme.
It's the cosmic brainchild from the creative team behind Australia's largest busking festival, Buskers by the Lake.
Known for breaking boundaries and her 'think outside the box' ideas, event director, Cindy Jensen has been carefully planning the event for months and said the driving force behind the event was an article detailing the very possibility that festivals may not roll out across the country for at least two summers thanks to Covid-19.
"Reading it set off a rocket launch fire inside me and I wanted to bring some confidence back into an industry that has been so hard hit and affected," she said.
"I miss traveling and the freedom it brings and the spacesuit represents the feeling Covid-19 confinement has had on me personally."
Acoustic Indi-Folk duo The Dreggs said they were stoked to be asked to headline the festival.
"Its such a great way to kickstart the music scene after everything that's been going on in the world," Zane said.
"The concept of Airwaves is great. Everyone can still social distance while watching live music."
The duo said they were excited to perform again after Covid-19 restrictions put a halt to all their live shows.
"We have missed playing live so much," Zane said.
"We didn't really know how to feel about the situation at the start so its super nice to have shows to look forward to.
"We have a new single "Call Me Home" coming out on 12 June.
"This is a song were super proud of and excited to see how everyone responds to the song."
Division 10 Councillor David Law said supporting innovative concepts to get the arts and cultural industry up and running as quickly as possible was critical.
"It is fantastic to see local and Queensland performers being offered work in what has been a tough time for our cultural industry," Cr Law said.
"Using new event approaches to leverage our assets such as the Nambour Showgrounds and drive opportunities to showcase our town is a big part of the Reimagine Nambour strategy which I enthusiastically support."
Event manager Joel Jensen hopes Airwaves will inspire other organisations around Australia to follow suit, to help re-boot the country's entertainment industry.
"It's not just the performers who have been severely impacted, it's everyone from the large scale production companies and venues, to the family-owned festival hire businesses and supply stores," he said.
Those eager to smell, see, hear and taste live music again will be able to drive in, park up and enjoy a night out under the stars with some of Australia's best punk, indie and folk performers including Pierce Brothers, Bugs, Sahara Beck and more to be announced hitting the stage across three nights.
With 'outer space' themed astronaut ice-cream and flying saucers taking over Nambour space station, organisers are encouraging all punters to get creative and don their best galaxy-themed threads.
The festival includes two events on the evenings of Friday 10 and Saturday 11 July, along with a late Sunday afternoon session on 12 July, kicking off at 4pm with tickets for each night sold separately.
All festival-goers will be covid covered with the team implementing procedures including contactless ticketing, door delivery of the festival's "Cosmic Crave" snack packs, hand sanitiser distribution thanks to Greenfest Solutions and constant reminders of the 1.5metre distancing by the sub-station crew.
Parking spaces on the Nambour Showgrounds shuttle deck are extremely limited and on sale now through OzTix, on the Airwaves Festival Instagram and Facebook pages, as well as through http://www.airwavesfestival.com.au/