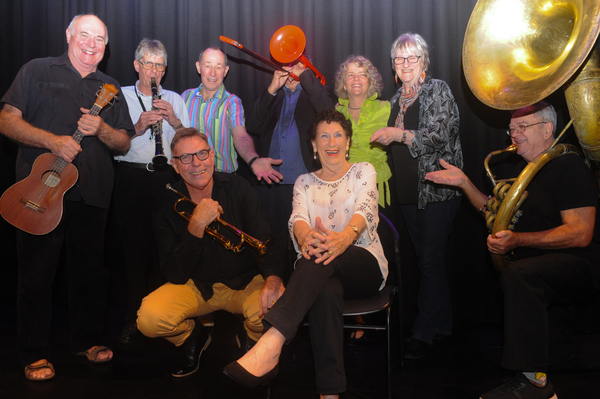 By Jim Fagan
Sydney and Melbourne's finest jazz musicians, The Australian Jazz Ensemble, will team up with Noosa Chorale at the J for two shows on Friday and Saturday, August 23-24 to launch the 10-day, non-stop Noosa Jazz Party.
Headlined "Cabaret and all that Jazz" the concerts are a mix of jazz classics and timeless songs by master composers like Ira and George Gershwin, Oskar Hammerstein, Cole Porter, Johnny Mercer, Gus Kahn and Jerome Kern.
Jazz lovers can also expect toe-tapping performances from Melbourne cabaret singing star Juliarna Clark, trumpet player Steve Grant, drummer Rod Gilbert.
This is the fifth year the Chorale and Noosa Heads Jazz Club have combined their talents and Jazz Club president, Richard Stevens, calls it a "delightfully exciting moment for two separate local groups with a love of music."
It's also the 27th year the Jazz Party has brought together the Jazz Family of Australia and New Zealand with patrons and Australia's leading jazz musicians for a feast of exciting and classic jazz performances.
The whole of Noosa will also jump throughout the 10 days with bands popping who knows where plus river ferry jazz trips, live gigs in restaurants like Fratellini, Miss Moneypenny's, Riverdeck, El Capitano, Café Le Monde and Tewantin Bowls Club which will have free admission.
And starting on Thursday August 29 there will be four nights of non-stop jazz at The J featuring 30 of what Richard calls "the cream of Australia's jazzmen" who are coming to Noosa for the Party.
"We're flying Simon Stribling from Canada and Mark Elton from the Edinburgh Fringe Festival. Simon plays trumpet and Mark Elton bass and they were members of the Melbourne Fireworks band which was known world-wide in the 90's.
"They broke up leaving jazz fans wondering if they would ever play together again.
"Well, the original band members are coming to Noosa for a once-only appearance at the Jazz Party."
The 2019 Jazz Party ends on Sunday, September 1 with a free Concert in the Park at Riverstage next to Noosa Yacht and Rowing Club Noosaville, from 2.30pm to 4.30pm followed by Jazz at the J from 5pm
"The Jazz Party this year is going to be sensational," said Richard.
"Cabaret and all that Jazz" August 23 at 7pm and Saturday 2.00pm August 24 at The J. Tickets $40. Bookings www.thej.com.au
Noosa Jazz Party at The J. Thursday August 29-to Sunday September 1 sponsored by Noosa Heads Jazz Club. Prices are for six hours of jazz per night 5pm to 11pm. Tickets per night $40. Phone 07 5447 2229. Please have your MasterCard or Visa handy.