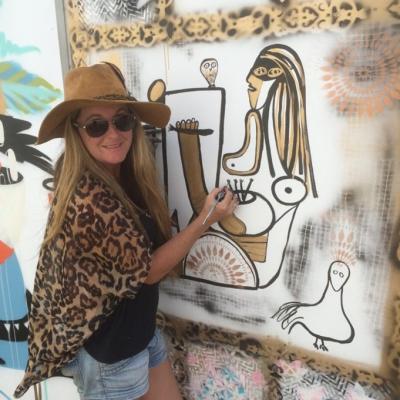 Noosa Councillor Karen Finzel will unveil the official opening of Max Galleria with an inaugural exhibition featuring works from 18 south east Queensland artists.
The much-anticipated launch will take place in Tewantin this Saturday 17 July from 6pm to 9pm.
Entitled Catalyst, the opening is inspired by community-focused gallery curator and professional multi-platform artist Maxine Stibbe who will share her space in supporting both local Indigenous and non-Indigenous art.
"I wanted to highlight some of the enormous talent here and create a gallery that showcases affordable local art for people to start their own collections," Ms Stibbe said.
"During Covid, small businesses, especially creative industries, have been suffering with limited opportunities.
"I want to give everybody the opportunity to be a catalyst for a new art collective as there's enough people in our beautiful town who love art, and who would like to support it."
Proudly sponsored by local businesses, Scotty's Pizza and The Imperial Hotel, Catalyst will bring together a diverse range of artists with varying skill sets, including renowned photographers, graphic designers, mural artists, jewellers, painters and multi-media artists, such as Maxine Stibbe, Jane Parker, Lizzie Connor, Charmaine Lyons, Angela Davies, Herbrobert, Leroy Sams, Matt Bushell, Sue Hoskin, Richard Hopkins, Mo Riggs, Mia Hacker, Russell Solomon, Emma Sheldrake, Kennedy Webb, Djinda, Tracey Susanna and Marina Mx Noar.
Meeting new people, experiencing different cultures and appreciating the world's diverse art collection are beloved pursuits of Ms Stibbe, who moved to the Sunshine Coast in 1992.
Ms Stibbe previously established a creative industries space in a Noosaville warehouse in 2014-16 before working at her home studio on the edge of Tewantin National Park until she discovered the space at Tewantin Plaza.
"I wandered into a beautiful little retro shop that had opened in an arcade and noticed the opposite shop was available when I had the epiphany to open the gallery," she said.
"I already worked then in Hastings St selling high-class jewellery when I realised there was a niche market for hand-made and Indigenous jewellery.
"To be truthful, there aren't many galleries selling affordable Indigenous jewellery or Indigenous art, or local art."
Max Galleria and Studio offers a diverse range of original pieces from gift cards and inexpensive jewellery to highly collectable investment art.