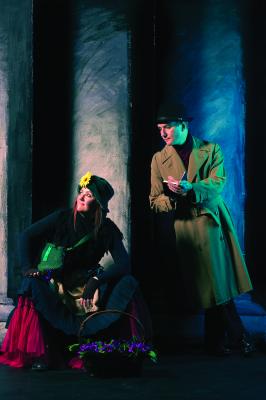 Spring is coming and another great show is about to open at Noosa Arts Theatre.
Most times when a story or play starts with "a dark and stormy night", there's horror coming. Not the case with Pygmalion, the dark and stormy night ushers in linguistic hijinks and class commentary, along with the empowering story of a determined young woman.
When Professor Higgins, a scientist of phonetics, and Colonel Pickering, a linguist of Indian dialects, meet in the rain one night at Covent Garden, the first bets the other that he can, in a matter of months, convince London high society that the Cockney-speaking flower girl, Eliza Doolittle, can be transformed into a woman as poised and well-spoken as a duchess.
And thus begins the enchanting story that has charmed audiences for over 100 years, especially with a superb cast, great set and fabulous costumes.
This play is still as relevant today as it was back in 1911 when it premiered, as it depicts our main character, Eliza Doolittle, proving that with grit and determination, she can become a successful, independent woman, without being manipulated or bullied by a man. Director Liza Park, has updated the setting to '50s London, instead of the Victorian era.
Pygmalion at Noosa Arts Theatre boasts a strong cast, with Rachel Fentiman playing Eliza opposite her real-life husband, Howard Tampling as Professor Higgins.
Revered Sunshine Coast actress and playwright Rainee Skinner will charm you as Mrs Higgins, while Jackson O'Sullivan plays the gentlemanly Colonel Pickering with aplomb.
Deputy Mayor, and ardent thespian Frank Wilkie, is the irascible Alfred Doolittle. The theatre's resident genius wardrobe expert, Margaret Courtney, is channelling her inner Dior to create fabulous costumes, while simultaneously working on five upcoming productions.
Sunshine Butterflies Disability Charity have been selected as the beneficiary for the Noosa Arts Theatre Charity Night this October.
Pygmalion opens on 14 October.The Charity Gala show night will take place on 15 October with all proceeds from ticket sales going to Sunshine Butterflies Disability Charity, helping to support those living with disability and their families.
For more information check the website noosaarts.org.au
Book online at noosaartstheatre.org.au or phone 5449 9343. Box Office is located at 163 Weyba Road, Noosaville and is open Tuesday to Friday from 10am to 2pm.