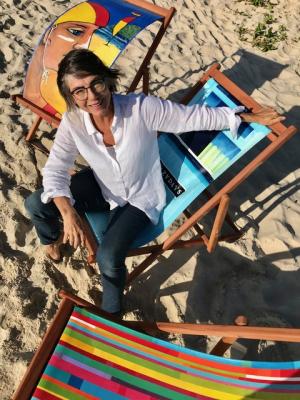 The Noosa Open Studios Art Trail is just around the corner but before then, 40 local artists who are part of the 2021 Art Trail event will have their work on show at the Gold Coast's SWELL Sculpture Festival as part of the Deckchairs on the Green installation.
The Noosa Open Studios Deckchairs will be one of 65 large scale installations appearing on the Gold Coast's Currumbin Beach for SWELL from 10 to 19 September.
Yanni Van Zijl, local installation artist and member of Noosa Open Studios, came up with the idea to create the deckchairs as an impactful collaboration piece for the 2020 event – as a means to create more awareness of the region's remarkable artists while also raising funds in a Covid-friendly way for Noosa Open Studios.
Together with former Noosa Open Studios president Trevor Purvis, last year Yanni applied to bring the colourful installation of individually painted Noosa deckchairs to SWELL, Queensland's largest outdoor sculpture event.
"The SWELL Sculpture Festival attracts thousands of visitors and I thought this was a great initiative to get our Noosa Open Studios Art Trail promoted to a wider audience in south east Queensland and attract visitors to our Art Trail event, which takes place two weeks later," Yanni said.
"I am a firm believer that the arts are a compelling tourism attraction and, with so much creative local talent, Noosa is rich in possibilities to promote ourselves further in this field.
"These iconic 100 per cent locally made, hand-painted deckchairs will be a talking point for years to come," she said.
A true reflection of local collaboration, the deckchair frames are made from blue gum grown in Cooran, which has been dried, milled locally and then beautifully crafted by the incredibly skilled woodworking artists of the Cooroora Woodworkers Club.
The Club is a non-profit organisation that aims to share the enjoyment of wood working and its members include men and women of all ages and levels of experience, from total beginners to award-winning masters.
The 40 locally sourced and made deckchair frames have been fitted with canvases, sewn to size by the team at Noosa Sewing Project, and individually painted by Noosa Open Studio artists, resulting in stunning works of art that are 100 per cent Noosa made.
President of Noosa Open Studios Anthony Wynne-Hoelscher said that the Deckchairs on the Green installation was testament to the skills and passion of Noosa's remarkable artists and artisans.
"Deckchairs on the Green is a compelling invitation to learn more about Noosa's creative spirit and the hours of work contributed by the talented Cooroora Woodworkers artisans and our Art Trail artists is central to the success of this outstanding installation piece," Anthony said.
"We're so proud that Noosa and our incredible artists will be visually represented at SWELL Sculpture Festival and our congratulations go especially to Yanni Van Zijl who has worked in partnership with Noosa's creative community to bring her Deckchairs vision to life for a second year."