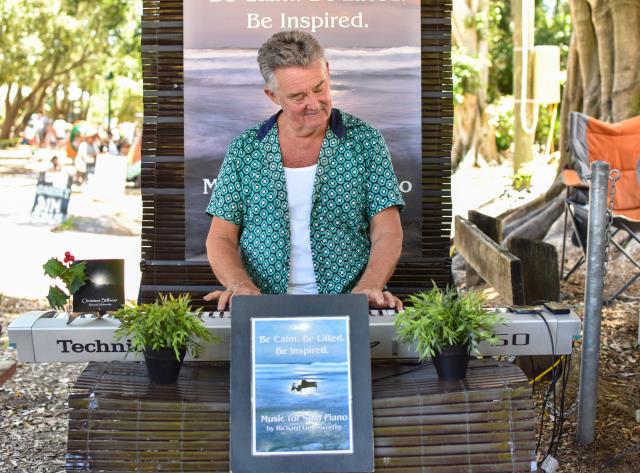 In this topsy turvy world of uncertainty, there is one dependable element that brings us all peace, stillness, harmony, reflection, and joy.
That element is a gift we give ourselves, and the gift we give to one other – music.
For Richard Goldsworthy, music has been a constant source of inspiration and passion in his life since studying classical piano as a young child.
As a highly regarded professional solo musician and recording artist, Richard has been a respected face at the Original Eumundi Markets for a very long time.
As a solo musician he feels especially fortunate venues such as these famous markets enable him to connect and captivate a willing audience on a regular basis.
Richards' passion and his amazing talent now fully support the lifestyle he loves living and composing at his home of 16 years, Coolum Beach. Living at this idyllic beach, Richard feels he has found his destiny, falling more passionately in love with this beautiful location every day.
"I aim to create easy listening, calming music that is also melodic with musical form and structure and most importantly is a listening experience," he said.
"The ambient, solo piano compositions are used widely for relaxation, meditation, yoga, therapy, and healing … but not just restricted to those modalities. For some people they simply seek to embrace the enchanting tones of the piano."
In his profession, Richard constantly meets people seeking calm and stillness in their life. His music not only taken them there, but it also keeps them there without too many notes or sounds to cloud the experience.
"One particular defining moment in my life happened in 2005. I scored the dream job as a piano bar entertainer at the Ritz-Carlton Hotel in Osaka, Japan. Not only did I get to live, work, and eat in this very expensive five-star hotel; daily I was living and exploring this fascinating culture. The inspiration to create came very easily," he said.
"I regularly take myself on writing retreats to different environments. Each album has been an individual journey, created in faraway places like Japan, Hawaii, and the Arizona Desert. But closer to home, the Hinterland mountains and cliffs overlooking the ocean are just as inspirational. When I place myself in retreat-mode, free from everyday distractions, the inspiration and music quickly come. I find it's a matter of consciously creating that free space in your head for it to come into being," Richard said.
With the festive season lulling us all into a time of self-indulgence, gift giving and sharing, Richard Goldsworthy has two new musical projects ready for release onto the Christmas market.
The first, Christmas Stillness is a solo piano album featuring gentle, meditative versions of traditional Christmas music. It also includes three original tracks, including Lullaby for the Night Before Christmas. It's a popular piece Richard wrote for all the children who find sleeping the last thing on their mind on Christmas Eve.
The second release Kindred Resonance is a unique musical collaboration with his equally talented cousin, classical cellist Jane Tallon. Their album A Serene Christmas features traditional Christmas carols, gently re-imagined for piano and cello in an ambient, serene, and beautiful way.
The Original Eumundi Markets hold a very special place in Richard's heart.
"I receive the most touching feedback from people who listen to my music at any time of the year and feel so privileged to create music that helps so many, including myself, through some personal challenges," Richard said.
I remember one particular day a young girl picked up my sheet music book at my market stall. I instinctively began playing her a piece and she said she'd like to purchase it. Curious, I asked her how long she had been playing the piano. She told me it wasn't for her; it was for her father.
"She then went on to tell me, her dad had lost his music room and all his sheet music in the fires. She wanted to give him a gift to get him started again. The piece I had played her was from my album The Quietening. The name of that particular piece – A New Beginning."
Reflecting back, Richard Goldsworthy had no idea that the funny little pieces of solo piano music he had written in his spare time would end up becoming his full-time career, selling over 40,000 CDs and streaming more than 5 million times around the world through Spotify, Apple Music and YouTube.
Thinking back, he said he'd still never know where he would be if he had not found the courage to go out and start playing to people, hoping they would hear what he heard in his music.
With all of us looking for that joy and peace this Christmas, Richard Goldsworthy and Jane Tallon will be presenting a live musical performance on Friday 17 December at the Eumundi CWA Hall in conjunction with Eumundi's Twilight Christmas Market.
It's that time again when gift giving, sharing, and embracing are guaranteed when combined with the wonderment and merriment that comes with a visit to the Original Eumundi Markets.
Come join the Christmas cheer with your own visit each Wednesday and Saturday where you too can discover the story behind the stallholder.