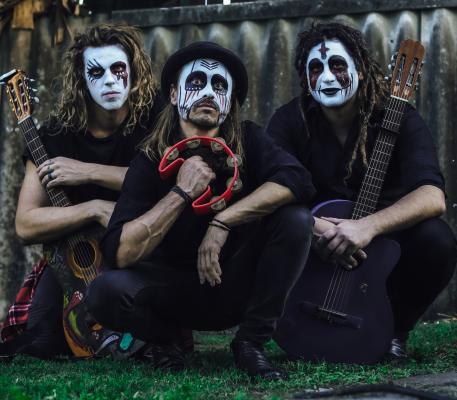 Prepare to be blown away when instrumental trio Kallidad take to the stage in The Brewery at The Imperial Hotel Eumundi on Friday 1 October.
Kallidad combine Spanish guitar magic with rock and roll energy to create a once in a lifetime sound that has seen the group tour across Europe, Asia and Oceania.
The line-up is two Spanish guitars and a box drum – but don't let the lightweight set-up fool you. Kallidad's sound is big. It's flamenco and mariachi fusing with metal and hard rock.
The trio's notorious white face paint masks their identities, shifting the focus to a musical style that is alive, intense, emotional, and powerful.
Kallidad's music is all instrumental – no lyrics are necessary to feel the energy and passion behind the music.
Booming percussion and shredded nylon string guitars weave a deep web of sound that always leaves audiences breathless and begging for more.
This is a live show you don't want to miss.
TICKETS: Presale $25 (plus a booking fee) through Oztix. Pre-sale tickets only (no door sales). It is an 18 plus event. Doors open at 7.30pm.