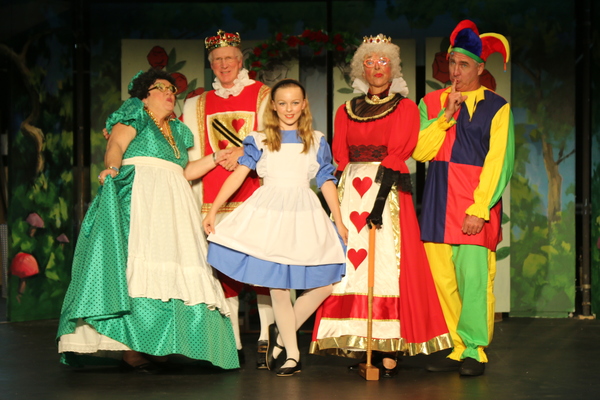 The Noosa Arts Theatre goes down the rabbit hole for a completely insane, fun filled journey! Join our young talented Grace Burroughs as Alice as she tries to navigate her world through the completely mad world of Wonderland in this fun filled panto.
Alice has grown tired of picking strawberries and falls asleep, when she awakens, she comes across the white rabbit (Keely Long) and follows him through the rabbit hole and into Wonderland, where she meets Lewis Carrols titular characters like the Queen of Hearts played by the much loved Sheila Oliver, Tweedle Dee and Tweedle Dum played by local twins Gus and Vic Alexander and many many more.
Follow along with Alice as she tries to save Wonderland from the Knave of Spades (Brant Warden) who has plans to marry the beautiful Princess Ruby of Hearts (Georgia Corry) and ruling over Wonderland, and to get her love he must steal a golden heart from a magical Wizard (Zara Ridell).
Alice's chaotic adventures quickly ensue, including a completely utterly bonkers tea party with the Mad Hatter (Caileigh Lutzke). Not just the kids, but the entire family will have an uproarious time at this pantomime. Presented by the Noosa Arts Theatre in January.
This pantomime is completely packed to the brim with music, songs, completely chaotically funny scenes with all your friends in Wonderland.
Come down the Rabbit Hole with the entire cast to this brilliant pantomime this January.
DATES
Saturday at 11am and 2pm – January 5,12, 19
Sunday at 1pm and 4pm – January 6,13, 20
TICKETS
All Tickets $15.00
163 Weyba Road, Noosaville
PO Box 3, Noosa Heads, 4567, Queensland
Box Office open 10am – 2pm Tues – Fri
Phone: 5449 9343
Email: info@noosaartstheatre.org.au