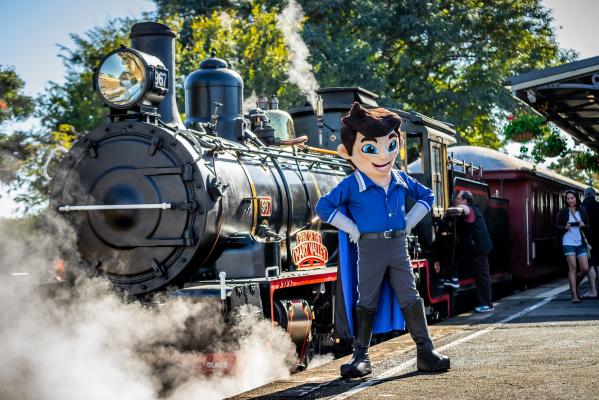 The Mary Valley Rattler's very own super hero, Steam Man, will join special services over the school holiday period.
Four additional dedicated family services will be added over the Queensland school holiday period.
The Mary Valley Rattler will operate extra diesel services on Mondays 27 September and 4 October, and steam train services on Fridays 24 September and 1 October to provide a trip back in time for all the family as the trains make their leisurely way through picturesque Mary Valley.
Leaving Gympie Station at 10am, the trains will travel to Amamoor, crossing over bridges and through the lush landscape of the Mary Valley. Passengers disembark at Amamoor and get to see the steam engine being turned around on the historic turntable before returning to Gympie at 1pm. Breakfast, lunch and snacks are available at the station's Rusty Rails Cafe with a menu designed to please all of the family.
There will be a scavenger hunt available for the children to go in the draw to win a Steam Man prize pack. Steam Man will be on platform in the mornings. Children's tickets for the ride are available for $35, adults $65 and a special family pass is available for $175 (two adults, two children).
To celebrate the third anniversary of the Mary Valley Rattler returning to the rails in 2018, there will be a special day with three trains departing within one hour of each other on 2 October.
At 9am, the steam service will offer a premium birthday experience with morning tea and lunch included (adult cost from $125, children from $60).
At 9:30am another steam service will take off (adult tickets from $65, children tickets from $35), followed at 10am by a special rail motor service. (Adult tickets from $55, children tickets from $30).
General manager of the Mary Valley Rattler Micheal Green said the trains were perfect for family groups, and the school holiday services would be geared specifically for families.
"The great thing about the Rattler trains is that they resonate so strongly with all ages," Mr Green said.
"We will have plenty of interactive activities for children, including our very own Steam Man, and competitions to keep them involved throughout the journey.
"And the holiday activities will culminate with our Triple Treat special event to mark the third anniversary of the Rattler's return to the rails in 2018."
Bookings and further information at maryvalleyrattler.com.au or call the Mary Valley Rattler on 07 5482 2750. Bookings are essential.