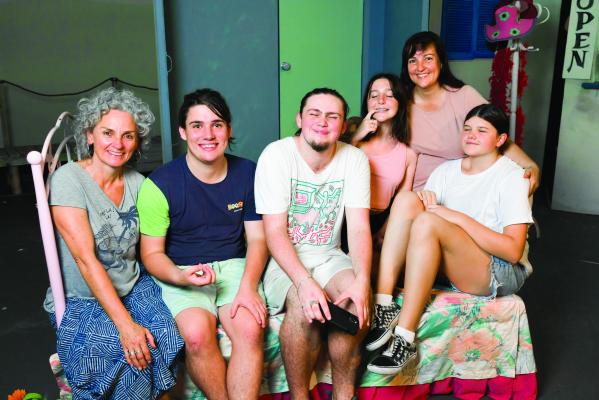 When MAMMA MIA! opens at Noosa Arts Theatre this month the show will tell a story about family, both on and off the stage.
Among the 26-strong cast are four parent and children combinations working together to help create what's likely to be an unforgettable experience and family memory.
Jo Hendrie, who plays the lead role of Donna and is an experienced theatre teacher and performer, is working side by side with her daughter Libby, the production's choreographer. Since leaving high school, Libby gained enormous professional experience as an intern and touring for four years with Harvest Rain Theatre company, appearing in shows such as Hairspray and Grease.
When MAMMA MIA! opens it will also mark 12 years to the day that Libby played the title role of Annie in ANNIE on the same stage with her mother Jo as the unhinged Ms Hannigan and another Noosa Arts Theatre regular Tim Murfin, who played Daddy Warbucks. Tim is now appearing in MAMMA MIA! as the priest.
Theatre veteran David Williams who directed Jo and Libby in ANNIE is back working this trio as director of MAMMA MIA!.
Jazz singer Stephanie Larman (Scott) who plays Donna's friend Rosie is appearing with her two children, Honi and up and coming comedian Ellery Scott who perform in the Ensemble.
Musical theatre regular Cristina McRitchie, a long-time friend of Stephanie's is also in the ensemble with her two children Teddy and Sienna. As Stephanie and Cristina met while pregnant with their first child, Stephanie (with Ellery) and Cristina (with Teddy) a photo was found with them all appearing so we couldn't miss this great opportunity to recreate the same photo of them all on the MAMMA MIA! set.
Neila Noriega, who originally hails from Venezuela but has called Australia home now for many years, is also in the Ensemble. Her talented daughter Ava plays one of the supporting cast members Ali. Ava has a twin brother Roy and an older brother Zac who have also graced the Noosa Arts Theatre stage many times. Neila has her work cut out for her wrangling all three of her teenagers' daily lives plus squeezing in her studies for her psychology degree.
As we live in such a small town, most of the kids know each other from school as well and so what a wonderful opportunity for these families to come together in a fabulous community theatre show such as MAMMA MIA! The show was postponed last year due to the Covid-19 pandemic, so everyone is super excited to bring this fabulous, energetic show to our audiences.