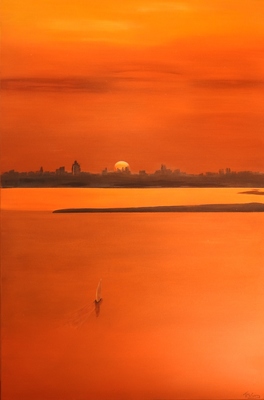 By Hollie Harris
David Berns Real Estate presents a group of eight diverse artists from varied backgrounds and careers but whose life journeys have lead them all to live in the same one road tucked away under Mt. Tinbeerwah – a place where creativity clearly flourishes.In this very special exhibition on 8 September – 16 October at The Butter Factory, Cooroy, A Street Shows its Art͛ spotlights these incredible artists who all happen to live in Gumboil Street, Lake MacDonald.
While they all differ in age, gender, nationality and their choice of media, they do share a common bond – a love of art; making it and appreciating it.
With no imposed themes or restraints, this exciting exhibition showcases an eclectic range covering much of the art spectrum including jewellery, painting, drawing, ceramics, sculpture and garden art.
The opening night is on the 8th which includes guest speaker Noosa Mayor Tony Wellington and live entertainment from Rily Woodman (also a Gumboil resident) from 5pm.
The Artists
Young French retiree, Chantal Desplat paints for pleasure and has done so for nearly half a century. Her favorite medium is oil, which she works exclusively with a palette knife. Very eclectic in her creativity, Chantal works as well in figurative (nudes, faces, landscapes, bouquets, still lifes as abstract. During a two-month exchange of homes in Australia, Gumboil Road, Tinbeerwah, she had the chance to give a free rein to her passion in the studio made available by her hostess, in an awesome and exotic creative atmosphere.
Fifty five years ago Heidi and Kurt Becker met at the Academy of fine Art in Kassel / Germany and have lived and worked together ever since. Poetry, myths and fantasy are the source of their whimsical, mischievous miniature sculptures and drawings. Every sculpture is individually and lovingly modelled from clay, with emphasis on playfulness, expression and detail.
Heidi Woodman grew up in the Adelaide foothills where exposure to many artistic mediums led to a love of the tactile qualities of clay, and the satisfaction achieved by creating something beautiful from a simple lump of mud. With an early focus on pre-Columbian Meso-American inspired designs, the range then grew to include a variety of collections with spiritual influence in an assortment of mediums. New Earth Art went onto win several awards at Mind Body Spirit Festivals across Australia.
Lily Hass grew up in the Noosa area, where she thrived on exploring the natural beauty of her surroundings and that together with her passion for animals and the outdoors is what has fueled her creativity and provides inspiration for her art. During her high school years and later at Tafe Visual Arts College she began to explore Lino printing and has made this medium her main focus. However, she also loves to work with other mediums, including painting, wood etching, ceramics and beading.
Monika Juengling's passion with clay started in Germany where she learned her skills working in a studio specialising in table ware. Her passion is porcelain and she enjoys pairing her vessels with glazes that reflect the simple beauty of her thrown forms.
Pamela Mitchell was born in Adelaide and has always drawn and painted with a desire to be an artist, but had to wait till later in life to achieve that goal. She works in oils, acrylics, pastels and sketches in charcoal. Her works hang in private collections across Australia, Thailand,
Greece, Scotland and England.
NZ born wire artist jeweller, Pauline Ramsay-Murray, qualified as a Fellow of Gemmology in Australia in 1975 and began a career in the study of gemstones which has taken her world-wide on a regular basis. Her fascination with rocks which she continues today in an endless exploration of art pieces. Her range of designing has included work for pearl farms in W.A., fossil pieces for museums, as well as White Cliffs opal fields in NSW.
While Tammy McGarry has always had an interest in art, from jewellery making, photography and ceramics to painting, her work commitments never allowed her to truly embrace it. It is only now in retirement that she has the luxury of time to explore, play and develop those passions further. Her medium of preference is acrylics and mixed media.
MEET THE ARTIST:
Wed 12 Sep Pamela Mitchell 10am –12.30pm
Thu 13 Sep Tammy McGarry10am –12.30pm
Sat 15 Sep Tammy McGarry10am –12.30pm
Wed 19 Sep Heidi and Kurt Becker10am –12.30pm
Thu 27 Sep Lily Hass and Tammy McGarry 10am –12.30pm
Thu 04 Oct Monika Juengling1pm–3pm
Thu 11 Oct Heidi Woodman1pm–3pm
WORKSHOPS:
Thu 20 Sep Pamela Mitchell 10am –12.30pm
Wed 26 Sep Heidi and Kurt Becker 10am –12.30pm