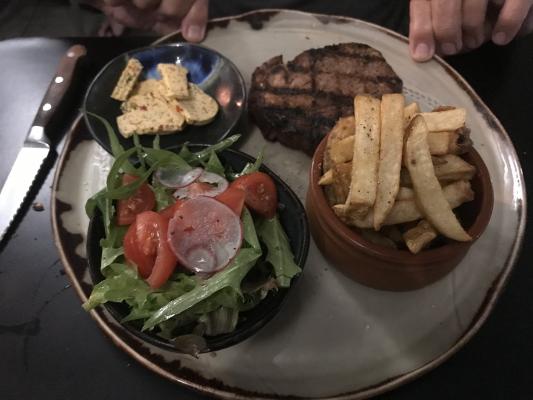 Whisky Boy reviewed by Trevor Pepys
Possibly thinking that it was some kind of skid row bum's bar turned trendy, where I would feel relatively at home, a group of friends and colleagues last February presented your reviewer with a $150 gift voucher for Whisky Boy to celebrate some mildly significant occasion.
Since we went into lockdown a week or three later, said voucher has lived behind a magnet on the fridge door ever since – a slightly sad reminder that someone, somewhere once had $150 worth of love for an old journo with a crook back – but as we come crawling towards the light at the end of the tunnel, last week it moved from fridge door to back pocket as I grabbed the child bride and headed into the night to find said Gympie Terrace hoochery.
Look, my generous colleagues were not entirely wrong. If there was a skid row on Gympie Terrace, it would probably be situated on the mini strip mall on the corner of Thomas that houses Whisky Boy. The eateries therein all face onto a car park, that is relatively attractive, I suppose, as car parks go. But wait, there is the hint of a river beyond.
Whisky Boy itself resembles at first glance a double garage that has been converted into a granny flat and a kitchen, but hey, some of the best meals Trevor Pepys has ever eaten have been in sheds of one kind or another, and this is a pretty classy example of the genre. Oh, and a short note here: Trevor Pepys occasionally lapses into the third person because a) there is no third person, just you, the reader, and he, the writer, and b) he is a bit of a tosser.
Still bound by social distancing, the Whisky Boy staff gave us plenty of space, but not quite enough to get us out of range of a large group of shrieking hyenas at the next table. But then again, people eating out again now can be forgiven for their over excitement. (The bride and I had only managed to quell ours by administering double doses of Panadol before leaving home.)
We opted for a few entrees to share, along with an excellent bottle of Domaine Grand Cros rose ($45). The ice cream dollop of house-made chicken liver pate, served with grilled flatbread ($16), was excellent in flavor and texture, the salt and pepper calamari ($18) made up for in taste what it lacked in presentation. Only the raw tuna special ($16), billed as sashimi, disappointed. Nothing wrong with the tuna strips, as fresh as yesterday, but sashimi needs wasabi and soy, and none was forthcoming, and neither did the kitchen have any.
But they obligingly ran out and got some, and it must be said that our service was like that throughout. Fast, courteous, and nothing too much bother.
Leaving the bride to munch on the generous serving of calamari, Trevor Pepys devoured a rib fillet with smoked garlic and herb butter, accompanied by crispy fat chips and a tomato salad ($30). You can't get much more basic than steak and chips, and, when it's done well, you can't get much better. And this was medium rare but well done, if you get my drift.
We finished with a shared whisky affogato and espresso shot ($14), washed down with a lovely Pulteney single malt nightcap ($12). Was Trevor Pepys satisfied with the dinner for two? With qualifications, yes, he was. Would he go back to Whisky Boy? Yes, he would, even on his own dime, and he'd know what not to order.
The verdict: Whisky Boy styles itself as a "kitchen + bar", which is exactly what it is. The bar happens to have the best and biggest whisky selection in town, much of it at reasonable prices, and the kitchen focuses on simple fare done really well. Above all, it's friendly and it's fun.
10/203 Gympie Terrace, Noosaville
0403 600 406, whiskyboy.com.au
While Trevor Pepys was born in Queensland and has been in and out of Noosa (not to mention Boggo Road and Wacol) most of his adult life, he is also a direct descendent of Samuel Pepys, the famous London diarist of dodgy habits, which may explain Trevor's predilection for writing and the low life. He threatens to write semi-regular restaurant reviews in this space.