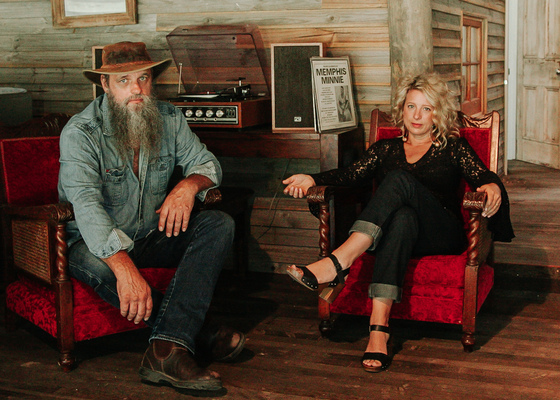 High-energy duo Hat Fitz and Cara are among Australia's most talented roots music artists. The husband and wife team have clocked up 10 years of worldwide touring, festival performances and album releases from their base operations in the Sunshine Coast hinterland and are showing no signs of slowing down.
Fitzy and Cara are thrilled to announce the release of their fifth studio album 'Hand It Over', produced by Govinda Doyle, mastered by UK legend Graeme Durham and featuring lead track 'Hold On'.
Now they're on tour to get everyone's blood flowing. "Our intent on this album was to share as honestly as we can with our music what we do live, the high energy moments that bring us together in life and the sensitive lows that we sometimes hold to ourselves," Cara said. "Hopefully capturing what feels good to us musically will feel good to the people listening, whether it's the first time they've heard us or if they've been fans for years."Hat Fitz and Cara's modern blend of old-timey-influenced sounds is equally at home on folk or Americana stages to blues and acoustic venues. While the singer/songwriters are both multi-instrumentalists, it's Fitzy's weathered vocals and soaring blues-soaked guitar combined with Cara's pounding drums and soulful voice that show them at the peak of their creative power.
Hat Fitz and Cara Album Launch Tour will be at The J Theatre, 60 Noosa Drive, Noosa Junction on Friday 8 February at 7.30pm.
Tickets $25 Adult, $20 Concession
Book online at www.thej.com.au, Box office or phone 5329 6560.
For more visit https://www.thej.com.au/hat-fitz-and-cara-album-launch-tour/