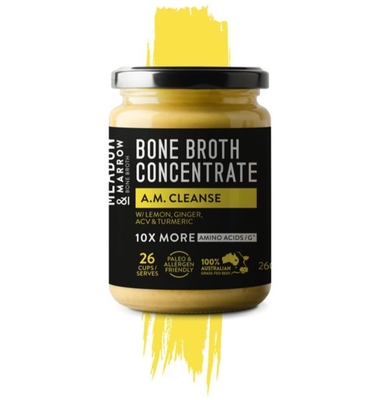 Welcome to August, the last month of winter. Typically still cool here in Noosa with chilly westerly winds so make use of seasonal organic citrus. Bioshop Noosa has a new product and a great detox drink for you to try!
This Lemon Ginger Morning Detox Drink with Turmeric is a great way to start your day.
LEMON GINGER MORNING DETOX DRINK
2-1/2 cups boiling water.
1 organic lemon cut into slices (I like the taste of Meyer lemons best)
1 inch piece of fresh ginger, peeled and sliced.
1/8 teaspoon ground turmeric.
2 teaspoons honey (optional)
NEW PRODUCT AT BIOSHOP NOOSA – MEADOW AND MARROW BONE BROTH
All natural flu killer for when you're feeling under the weather. A.M CLEANSE kills two birds with one stone combining all the benefits of Bone Broth with traditional alkalising and immune boosting superfoods – lemon, ginger, organic apple cider vinegar and turmeric – for the ultimate morning tonic.
Head in store at 59 Rene St, Noosaville. For more information visit https://www.bioshopnoosa.com/ or call 0429 003 664.