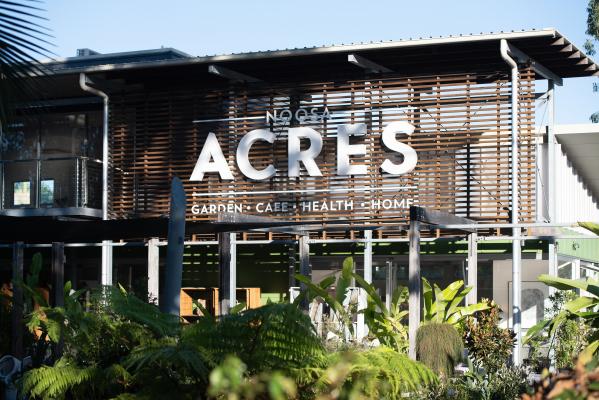 By Abbey Cannan
Noosa Today journalist Abbey Cannan discovers Acres Noosa
Explore the garden nursery for expert advice and outdoor inspiration; clear your mind, body and skin; enjoy refreshments at the Forest Cafe; and fall in love with exquisite homewares, gifts and clothing.
In the heart of Noosa, there's an innovative haven for locals and tourists alike just waiting to be discovered. Although, with its rising popularity, this secret oasis might not be much of a secret anymore.
The architecturally designed lifestyle centre at Acres Noosa flourished from the unique vision of Ralph Rogers and incorporates an artisan food pantry, health and wellness studios, world class cafe, exquisite homewares, gifts, clothing and a one-of-a-kind garden centre.
If you're looking for garden and design inspiration, or even to relax and unwind through some yoga and a delicious meal, this place has got you covered, and then some.
With a huge range of pots and of course plants, Acres Garden Centre is the first place to hit to spruce up your home.
The team, led by knowledgeable owners Taier and Matt, are more than happy to answer your questions and help you add more green and perhaps a touch of colour to your life.
The Garden Centre also offers gift ideas including indoor plants, orchids, cut flowers and gardening books.
Right now the centre has the most stunning range of Magnolia grandiflora 'Teddy Bear', a smaller more compact version of the magnolia tree.
These beauties are not to be missed out on, and you can visit them in store seven days a week.
The latest special addition to Acres Noosa are two like-minded therapists who are offering a boutique mental health experience.
The husband and wife team at ReMindEd Mind Health Clinic, Grant and Sally Harvey are completely committed to the freedom of the mind, soul, body and spirit.
Once you realise that healing is possible, you won't be so surprised at how freeing the therapy sessions at their stunning boutique mental health clinic are.
To become the best version of yourself, book an appointment at www.reminded.com.au
If shopping is your style of therapy, hit up The Alfresco Room to check out their stunning range of homewares to perfectly complement your lifestyle.
Owner Brett said much of their furniture was designed specifically to be used both inside and outside.
"It's made with our unique subtropical lifestyle in mind," he said.
"We represent a large suite of local artists and makers which add a sense of place to our interiors and reinforce the local roots we are so lucky to have.
"It is through these relationships that we are able to curate an authentic presentation of our Noosa lifestyle.
"The Alfresco Room's natural palette and earthy tones are born of the space between the bush and the sand.
"We love bringing that inspiration inside to create welcoming, warm interiors and outside spaces that work."
The Alfresco Room has the most stunning range of ceramics in store at the moment that are not to be missed.
Make sure to pop in and get yours before they run out of the door. They are open Tuesday to Sunday and by appointment (07 5449 0290) on Mondays.
Head to www.thealfrescoroom.com.au/ to view their latest catalogue online.
Need a poolside umbrella ready for the spring time?
Then it's time to visit Daydream Leisure Furniture, who not only have an amazing range of residential and commercial umbrellas for you to choose from, but are also direct importers for the popular Italian range of Nardi furniture.
For the past 23 years, owners Jason and Alana Condon have given their all to reach a new level of success, opening their second remarkable showroom at Acres Noosa four years ago.
To reach a new level of luxury, visit their showroom open seven days a week to check out their impressive range of sofas, daybeds, sun lounges, and outdoor dining settings.
To view their range online, visit www.daydreamleisure.com.au
Once you've shopped until you're ready to drop, head to the healing sanctuary called Zenko for some relaxing yoga.
Owner Lauren Verona said Zen is a contemplative still mind, pinnacle of achievement, inner peace, Ko is Japanese for child, so Zenko is achieving a child-like contemplative state of mind.
They have a range of memberships and passes for locals and travellers, beginners to advanced as well as multiple classes each day, for seven days a week.
As the next stage of Covid-19 restrictions have lifted, class sizes at Zenko have increased, allowing plenty of space for you to attend as many classes as you wish, whether you're a visitor or a local around Noosa.
The team had asked that you continue to book in for classes, bring your own mat and props and keep up the sanitising.
To book in for a class, visit www.zenkoyoga.com.au
Once you've fuelled your mind, it's time to fuel that empty stomach.
Emma and Matthew Greenland's Forest Cafe will provide you a friendly face while serving your delicious food, fresh drinks and a nice hot coffee.
Get some fresh air amongst the trees while enjoying an eggs benedict or smashed avo during a catch-up with friends.
They serve a range of dine in and take away options for breakfast, brunch and lunch, including innovative salads, Cornish pasties, steak sandwiches and extremely popular pork pies.
Just writing the words down is making my mouth melt again.
If that's not enough to win you over, they have First Batch Coffee, smoothies, juices, and not to mention, absolutely amazing cakes.
The Forest Cafe is open Tuesday to Saturday from 7-2pm and Sunday from 8-1pm.
If you wish to have a chat to the friendly staff, you can call them on 07 5449 7716.
Once you've cured your appetite, it's time to treat yourself and your skin at Noosa Skin Studio.
Owner Daphne Walsh is focused on delivering the complete client experience with a clinical blend of advanced treatment techniques combined with the therapeutic flow of relaxation and rejuvenation.
Daphne uses the highest grade skin care formulations based on scientific research to create healthy, glowing skin.
Daphne said she ensured all treatments were customised to support individual needs for progressive long-term results.
Along with her advanced treatment techniques, Daphne also offers traditional beauty services such as waxing, massage, brow and lash tinting.
Book a no-obligation free consultation to learn more by calling 0411 215 337.
To refresh your home and health at a one-stop destination, visit Acres Noosa "Come and Explore" at 37 Gibson Road, Noosaville.
Stay up to date on all their latest offerings by checking out their socials at www.facebook.com/acresnoosa/ and don't forget to keep an eye on their website for a fresh launch at www.acresnoosa.com.au