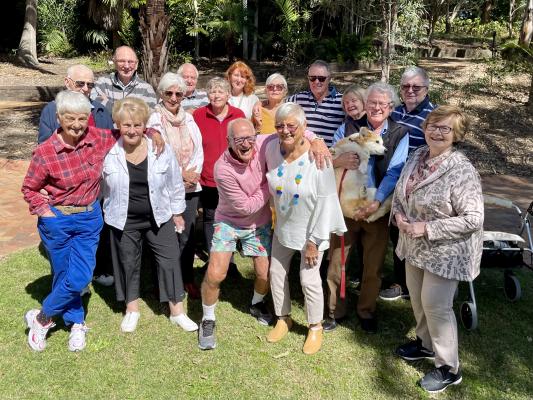 By Abbey Cannan
Filled with smiles and laughter, it doesn't take long to see the genuine bonds formed between the volunteers and guests at NoosaCare's Dementia Cafe.
The Dementia Cafe provides a welcoming, stigma-free social setting where people living with dementia and their care partners can meet others and enjoy time together.
Richard and Jeannie Adey, who have been married for 53 years, haven't missed many meetings over the past four years.
"It's been the best thing we've done. It's just fabulous," Richard said.
"It's great to be able to meet with similar people, there's no stigmas, it's just a really friendly group.
"There has to be more people out there in the community that would benefit from this group, with one in four elderly suffering from dementia. We're not a very big group, given that statistic and given the demographic of Noosa residents.
"It's not just for people living with dementia, it's for the carers and families as well. It's a great opportunity to talk amongst ourselves and give each other advice.
"It gives people an insight into what people living with dementia are like, as it's nothing to be scared of. For the people with dementia it's a real problem for them, but having an understanding group, the stigma goes."
Jeannie said the best part of the group was the laughter.
"When everyone starts laughing like this, they're not worried about making a mistake or doing anything wrong," she said.
"If more people did it, they wouldn't be as stressed. I know that because I've got dementia. I was so scared and then after a while, I started to relax and have fun."
The initiative came after NoosaCare was awarded a grant from Dementia Australia in 2018 to improve levels of engagement with people living with dementia across the community.
With the support of the grant, NoosaCare's Dementia Cafe was created and has been going strong since 2018.
The cafe runs on a fortnightly basis and is facilitated by Danah Wood from NoosaCare and three amazing DementiaLiving volunteers from NoosaCare being Lee Marsden, Bill and Bobbie Jory.
Bobbie said she related to people with dementia.
"Some people are frightened of volunteering and frightened of dementia. Maybe it's too confronting, but for me it's just the daily process," she said.
"I just feel that I've had a fairly privileged life and at our time in life, it's nice to give back.
"I've learnt that dementia is different for everyone. For people caring for them, it's like a loss from the beginning and it's a very slow process. So you actually start grieving from the diagnosis.
"I think that you just have to be mindful, accepting and caring for everyone."
Bobbie said it's important to remember that people living with dementia still have feelings.
"Just because they have dementia, doesn't mean they don't feel. So we need to be mindful of that," she said.
Lee said she would like to see more people come forward to see what volunteering is all about, particularly in aged care.
"It's all about you just being you. You don't have to be a specialist or an expert, just generous with your time."
Danah said the group was also a great way to find out about the services and support in the area available for people living with dementia.
"We would like to let the community know that NoosaCare's community cafe exists for people to meet and connect with others in our community who are travelling a similar road," she said.
NoosaCare's Dementia Cafe has proudly been sponsored by the Bendigo Bank-Community Bank Tewantin-Noosa for the past two years.
If anyone is interested in finding out more about the Dementia Cafe they can contact Danah Wood on 5449 8799 or email dwood@noosacare.com.au