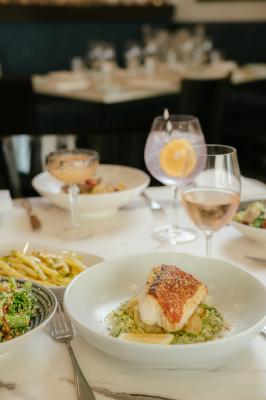 By Abbey Cannan
Originally from the North of France, the new owner of Gusto on Gympie Terrace has brought a fresh twist to the restaurant with a European modern touch.
Timothee Lepoutre took over the restaurant in July with his partner Chloe, and soon after they refurbished and redesigned not only the dated decor, but also the menu.
Timothee said he met his partner Chloe after moving to Sydney and together they moved to Brisbane to start a family.
"Brisbane wasn't my cup of tea and we were thinking to go back to Sydney until the ex owner of Gusto mentioned they were selling," he said.
"My parents-in-law, who have been going there for years, and Chloe and I too, thought it would be the perfect opportunity.
"Best position on Gympie Terrace, Gusto has a fantastic following from Noosa locals, and the consistency of the dishes and the most friendly faultless service was what my passion for hospitality is all about.
"At the time expecting a little girl and having Chloe's parents in Noosa around the corner, it was just all the stars lining up. So we went by signing the deal."
Timothee said their whole idea was to keep the fantastic core of Gusto that everyone loved, but all while recreating and refreshing.
"Our head chef Michael Trask is the most talented and we are always challenging each other to create a perfect experience," he said.
"Our philosophy is fresh local products prepared with love, and we just want to be consistent and humble."
Not only has their wine list been extended and soon to have over 150 references with 40 wine by the glass, but Gusto is now also open for breakfast on the weekends.
If you're looking for a stand out dish, Timothee said one of his favourites was Pan-Seared Knobby Snapper, with crushed garden peas, confit shallots, roasted kipfler potatoes and lemon herb crumbs.
"The feedback we are getting is just amazing, so come try us out," Timothee said.