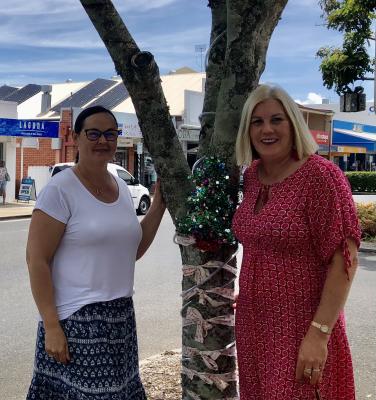 This year Christmas in Tewantin is going to be bigger and better than ever.
The Christmas decorations and solar fairy lights are all up, giving Tewantin a fabulous festive feel.
On Saturday 12 December between 9am and 12pm, Tewantin is going to be the place to be.
There is entertainment for all ages, with six different live performers who will be playing Christmas songs throughout Poinciana Avenue.There will be three different performers playing down Poinciana Avenue at any one time.
The performers include Fabian, Chris Ramsay, Andrea Kirwin, Amanda Jensen, Doo Wop Dolls, and Graeme Ransom.
They will also have Miss Donna balloon twisting who is always a hit with the kids making amazing shapes and figures. Christmas Angel stilt walkers will be roaming Poinciana Avenue.
Santa with arrive during the morning to give out lolly bags to the kids. It is going to be an action-packed morning, so come and support all of the Tewantin businesses and join in with the Christmas festivities.
"Christmas in Tewantin doesn't happen without a lot of community spirit from Tewantin business owners," President of Tewantin Traders Association, Barbara Sheriff said.
"Every year it is the generosity of Tewantin businesses that contribute to the cost of new decorations and fairy lights, that gives Tewantin it's festive spirit. And even though it has been a tough year for a lot of businesses they have still contributed so that Tewantin can look and feel fabulous this Christmas."
Noosa Travel, along with Kass Livesey from McGrath Estate Agents and Cathy Hewett from Tewantin Travel, have worked tirelessly on the Christmas project to bring it all together.
"I would like to say a big thank you for all of the support that Noosa Shire Council has given us this year. It has been absolutely fabulous," Barbara said.
"A big thanks to the following sponsors: Bendigo Bank, Richies Bakery, Fifty Shades of Hair, Noosa RSL, Noosa Travel, Tewantin Travel, RJS Accounting, Tewantin Medical Centre, R Simmonds Solicitors, Kass Livesey – McGrath Estate Agents, Chris Reeve Solicitors, Tewantin Heritage & Historical Society.
"
For more information about the Christmas in Tewantin program please go to Tewantin Traders Association Facebook page – Your Community 4565.