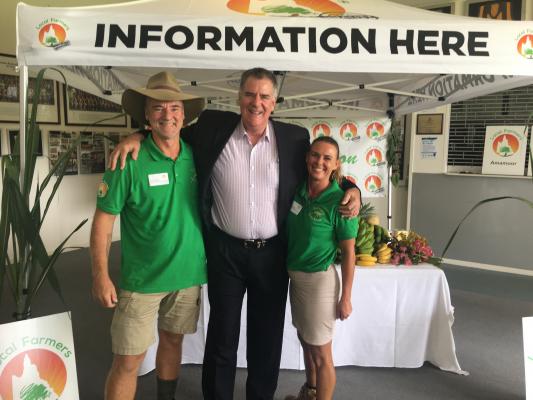 By Abbey Cannan
After 18 years of successfully running the Noosa Farmer's Market, owner Shane Stanley said a localised food chain was more important now than ever.
Despite the COVID-19 pandemic putting a halt to Noosa's tourism market, the Farmer's Market continued to trade with support from the local community.
Not only did they stay open throughout the crisis, but they have continued to progress the industry through forming a quality assurance program and developing a new business plan.
Mr Stanley said it was an exciting time for the local food industry, as the pandemic made people more aware of the importance of a short supply chain.
"With pandemics and shutdowns, if we have a localised food system, we won't have to worry about where our food is coming from," he said.
"Through the local food system, the produce nutrient level is higher and basically, we get more benefits out of eating that food, not to mention helping our local farmers."
He said one of his biggest drives was ensuring that farmers got the profits they deserved.
"One of the big issues in the industry is that from the farm to the retailer or the consumer, there are so many people involved that don't need to be," he said.
"It's ridiculous how we move food around. The more hands it goes through, the less the farmer gets.
"At the end of the day it's up to the customer to help make that change.
"If we really support a localised food system, then we will see the economic benefit for our community."
Mr Stanley said they have formed a Noosa and Sunshine Coast PGS (Participatory Guarantee System) Association under the brand "Local Farmer".
The PGS will assist local farmers, food producers and artisan makers to promote, facilitate and transition towards environmentally sustainable production in a measured way, to a national organic and quality standard that is transparent and monitored.
He said the association would work towards eliminating the use of harmful chemicals in the ecosystem.
"Organic farmers are always looking to remove harmful chemicals from food production, and they want to be able to pass that knowledge onto every group in Noosa that is interested in hearing it," he said.
His passion for making progress in the industry is still as clear as when he first opened the market with his wife in 2002.
"Here in Noosa and the Sunshine Coast, we've got so much great produce and we just wanted to bring it all together in one spot and it's been very successful," he said.
"When we first started in 2002 it went from people not know what a farmer's market was and I guess when all the cooking shows became popular, like MasterChef, people started paying attention to where their food was coming from.
"Our sales have gone ballistic because of the popularity of food, wanting to eat healthily and helping local producer."
Mr Stanley said one of the biggest changes he has seen over time was the growth in the number of farmers in the region, who also want to sell directly to the customer.
"If farmers have income, they will keep farming and it all comes down to that."
Mr Stanley said as the restrictions ease each week he has seen crowd numbers increase at the markets.
"We were only getting 1000 through the markets at one stage but now were getting back up to some decent numbers as people can move around," he said.
"We've been open the whole time and now all of Noosa needs to be allowed to reopen for visitors.
"I know it's easy to say but I encourage every business to consider opening sooner rather than later so we can get the economy and our town moving again.
"Now is the time to really get ready because the tourists are coming and we can already see that in the market."
Mr Stanley said the pandemic triggered the development of a new business plan for the markets.
"We're looking at everything from our waste, how we generate power at the market, what products we sell, and how manage transport to the market," he said.
"There's a lot going on in our space and we're also putting together a click and collect option for locals.
"We're probably seven to eight weeks away from trialling that, which will also help at peak hour times."