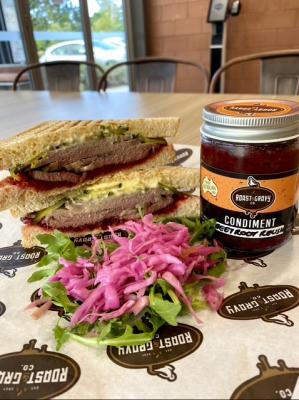 By Abbey Cannan
Inspired by the taste of traditional meals cooked by their grandparents, Roast and Gravy Co owners fulfilled the community's cravings when they opened their new eatery in Tewantin.
Since seasoned hospitality professionals Gabe Klagsbrun and Nick Haddleton launched Roast and Gravy Co almost two months ago, the locals have been raving about their roasts and sandwiches.
"We've both got quite extensive backgrounds in hospitality," Gabe said.
"I've had a number of various food businesses, first in Sydney and in Noosa as well, while my partner has also had businesses himself in Sydney and has been the head chef at a number of venues on the coast here."
Gabe said they started the business after noticing the lack of traditional meals on the Sunshine Coast.
"We noticed traditional roasts was the kind of thing no one was really doing anymore, so we decided to give it a crack," he said.
"We make all of our own condiments like our grandparents used to do.
"We're an informal style of a place, so we're basically a glamorous takeaway with nice facilities for people to come and sit and enjoy themselves."
Specialising in takeaway, Roast and Gravy Co offers assorted roast meats, sandwiches, family meals, fresh salads, roasted veggies and irresistible sides.
"We do weekly specials and we have a liquor licence, so if you want to come and have a bottle of wine and a roast you can," Gabe said.
"We're keen to do catering as well for Christmas lunches, birthdays, picnics and events.
"Part of our concept is you can create your own dining experience here by selecting exactly what you want.
"We're basically just a nice, homely, good quality establishment."
Gabe said they have had an awesome response from the community since opening their doors seven weeks ago.
"So far, the response from the community has been really good," he said.
"We were on Hastings Street before so we've definitely targeted the local market rather than the tourist market.
"We definitely would love some more tradies earlier in the day to try our sandwiches.
"Our meats are outstanding, one of our most popular things that people are raving about are our brisket sharing platters."
Find Roast and Gravy Co at Shop 1/11-19 Hilton Terrace, Tewantin. For more information call 0483 067 470.
Check out their delicious meals and weekly specials on Facebook at Roast & Gravy Co.