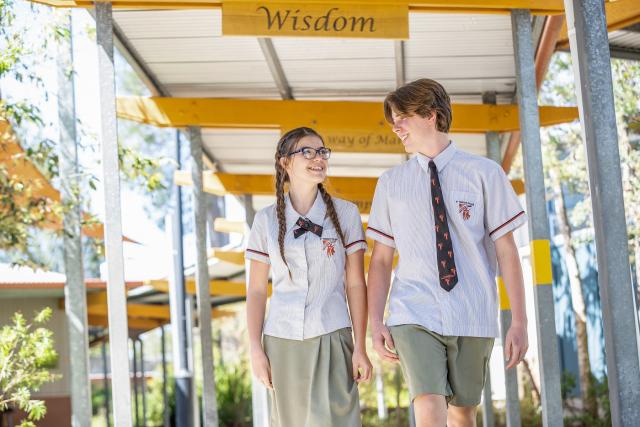 By St Teresa's Catholic College
Here at St Teresa's Catholic College we see the value in a Catholic education all year round, so it is a wonderful opportunity celebrate this during Catholic Education Week.
As a Marist College we strive for a high quality, holistic education for our students.
We aim to make a positive difference in their lives but also reach the wider community by challenging them to live out the message of Jesus and to reach their full potential as compassionate and contributing members of the communities where they live.
As a Marist community we associate our work and way of doing things with the Marist traits of humility, simplicity and modesty.
During Catholic Education Week, our College will be embracing the 2022 theme of 'communities of faith, hope and love'.
The personal spiritual experiences of St Teresa of Avila, who believed that God is love and that real prayer is nothing other than the expression of a relationship of friends, is lived out in the daily life of the College.
We hope our St Teresa's community of students, staff and families will join in our joy in celebrating this special week on our College calendar.
Our College holds a strong commitment to contemporary learning and teaching frameworks. Engaging the students in a love of learning is a priority.
We appreciate the journey that our students are on to not only achieve their educational goals, but to grow into the person and life that they dream of. Hence our College motto 'Dare the Dream'.
Developing personal values and positive attributes are key markers along this pathway, and we are here to support our students for each step of their journey.
Principal David McInnes, with over 40 years experience in Catholic Education, has implemented the Individual Career Pathway program here at St Teresa's to ensure our students achieve their individual goals.
Students are individually mentored in understanding how they learn and to identify their individual learning needs, as well as the skills needed to pursue their chosen pathway.
Our students enjoy the opportunity to pursue their study in a beautiful, natural bushland environment, which includes our peaceful Bush Chapel.
If you would like to know more about our College, please contact us or visit our St Teresa's website (www.stteresa.qld.edu.au), where you can book in on a weekly tour with our Principal David McInnes.