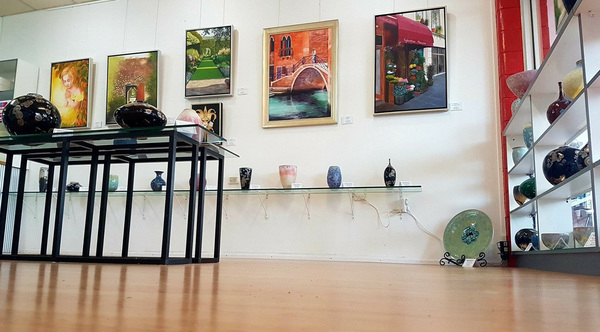 The Art Hub Cooroy Gallery showcases local artist's exhibits on a four week rotational basis.The artists display their works of art in an enviable location at 3/2 Emerald Street in the midst of busy Coffee Shops enabling locals and visitors to view the beautiful exhibits displayed.
The opening night is scheduled for Friday 2 August from 5.00 to 6.30pm, art lovers and visitors most welcomed. This is an opportunity to view Rod McArter and Peter Scott's creations from 2 August to 29 August, the Gallery is listed on the Noosa Open Studios trail and look forward to viewings during that period.
Rod McArter is inspired by the local environment and has put together a number of paintings that capture the beauty of this area. The paintings incorporate a variety of textures and mediums painted with a brush or with a palette knife in a semi abstract style capturing marine activity, ideal for the modern home.
Peter Scott is a skilled ceramic artist and has expanded his creative skills whilst regularly visiting Japan. He visits Japan regularly to further his artistic flair and to learn new modalities in this fascinating art form from Japanese Ceramic Masters.
Emerging local artists are encouraged to get in touch with THE ART HUB Cooroy by calling Gloria on 5447 6155 or email info@thearthubcooroy.com.au.