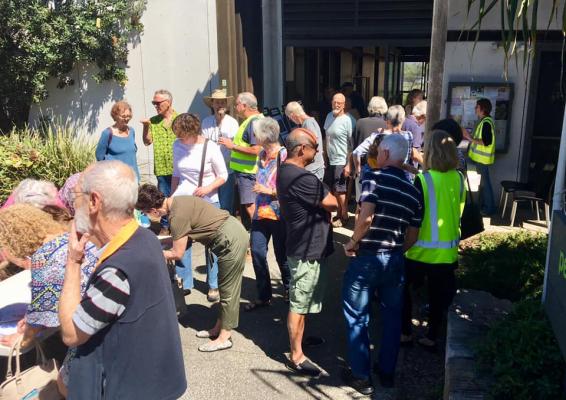 Airservices Australia (ASA) received an astonishing 467 submissions, including a 59 page submission from Flight Path Forum, during the public comment period on the second draft Terms of Reference for community consultation on the Sunshine Coast Airport flight paths which closed on 4 November.
This level of public response clearly demonstrates the extent of community concern on the newly implemented flight paths, Flight Path Forum spokeswoman Vivien Griffin said.
Just three weeks later, on 26 November, ASA announced it had "considered and applied" the feedback provided in those 467 submissions to an updated Terms of Reference.
ASA have advised it will host an online (WebEX) meeting on Tuesday 8 December to its consideration and response to feedback prior to releasing the third draft Terms of Reference for final public comment.
Ms Griffin said Flight Path Forum would have preferred ASA provide each submitter with feedback on the issues they raised and run a community meeting to properly discuss updates to the Terms of Reference.
"It is of concern that ASA have chosen WebEX as an engagement mechanism given the high level of community interest," she said.
"It will make it hard for any community member to have their voice heard. The meeting sounds more like ASA is going to talk to us not with us."We are also concerned that Airservices are rushing the next round of public consultation in the run up to Christmas, which will overload the community and reduce the quantity and quality of further feedback.
"It is hoped the community is given until February, to make comment. ASA is missing an opportunity for meaningful community engagement in its attempts to rebuild its trust deficit."
I
In the meantime, as the borders re-open, residents throughout the northern Sunshine Coast are experiencing an increase in flights and aviation noise. This is an ominous reminder that the full impacts of the flight paths associated with the new SCA runway have not yet been felt due to Covid-19 restrictions, Ms Griffin said.
"Flight Path Forum have been working hard to raise funds for a flight path review by a CASA accredited consultant with a raffle closing on 5 December," Ms Griffin said. "We urge concerned residents to support our efforts by buying tickets."
Fight path review raffle tickets are available online at https://flightpathforum.org.au/raffle.html.
Community members with an interest in the Post Implementation Review of the flight paths, can register for the WebEX meeting through Airservices Australia Engage page at https://engage.airservicesaustralia.com/sunshine-coast-airport-airspace-changes-runway-1331.