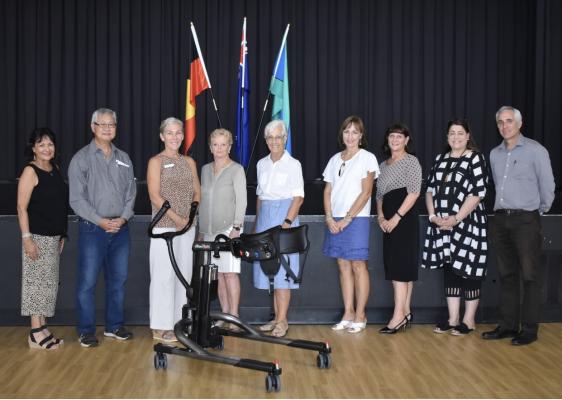 By Abbey Cannan
A student with a disability will now be able to achieve her dream of standing during the National Anthem thanks to a donation by The Thursday Girls.
The group donated a $6000 hoist for the Noosaville State School student and in return were presented with a certificate for their contribution on Thursday 18 February.
Committee member Senka Thwaites said it was an exciting and gratifying day for The Thursday Girls.
"In handing over this lifting hoist for a student with special needs we have brought a whole new flexibility to her school experience," she said.
"When the The Thursday Girls received an inquiry as to whether we could help in the provision of this hoist, we made some further inquiries from the school and found that this student is a keen and committed student who courageously takes part in many activities despite her disability."
When the student was asked how it would benefit her most, she said she would now be able to stand for the National Anthem at school assembly.
Along with this touching achievement, the hoist has many other uses in enabling her to be able to move about the school.
"This is a great recognition of the generosity of our members of The Thursday Girls and the cooperation and generosity of the Noosa restaurants who make our fund raising possible," Senka said.
"The Thursday Girls share the joy of funding this hoist and knows it will enhance the school experience for her."
She said the charity works with the nine state schools in the Noosa Shire.
"The Thursday Girls raise money for students whose parents are suffering hardship as many of us know at this time. Mostly, we make the smaller items happen," Senka said.
The group have also helped fund some large projects such as an extraordinary student to go to MIT in Boston where he studied waves in space.