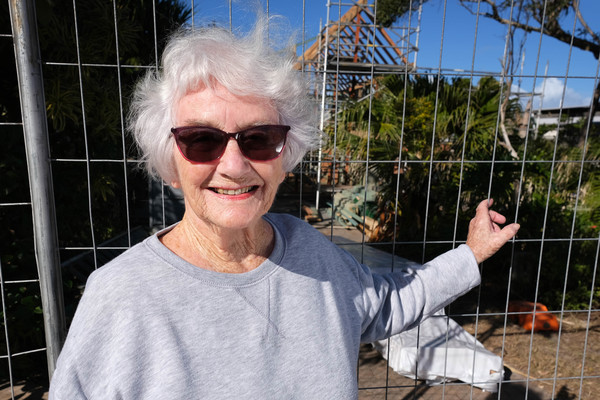 By Margie Maccoll
Pam Murphy's indomitable spirit continues to shine through as she looks forward to moving into her new house being built to replace one destroyed by fire last September.
A Peregian Beach local for 40 years, the 90-year-old was the sole resident to lose her home in the bushfire that raged through the area and led to the evacuation of thousands of residents.
Almost three weeks ago building began on her new home being built "like for like" according to insurance protocol with one important difference.
A Colourbond roof will replace the shingle roof of her previous house, which is where the blaze began, sparked by an ember that travelled from the fire blocks away.
"It's good to see it going up so fast," Pam said of her new house.
"I'm keeping well and still doing everything I could previously."
Pam is staying with neighbours, from where she can watch the progress of her new house which she hopes to move into in October.
She said one of the most difficult things for her was to see her possessions thrown away when her damaged house was demolished.
"I liked my old things," she said.
But the kindness of people in the community has buoyed Pam. Many have dropped off gifts.
"People have been marvellous to me," she said.
"A little girl knocked on the door one day with a card she had made me and a $50 for the cats."
Fortunately both of Pam's cats survived the fire. She took one with her when she fled the fire in her car with few possessions and the work clothes she was wearing after a day spent gardening.
The other one ran away but kept returning to the burnt remains of the house and after leaving food out for her the two were eventually reunited.
"She's only come to me in the last couple of months," Pam said. "She's very traumatised."
The runaway is being well cared for temporarily at a cattery where she will be safe until the house is completed and they can all move in together.
A keen gardener the garden she now describes as "an absolute shambles" was the last thing Pam did at her home and will be one of her first tasks when she returns.