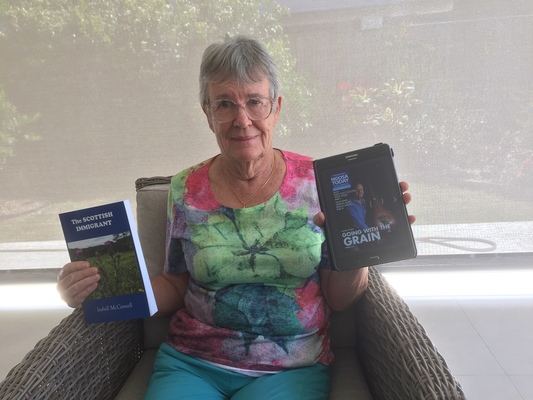 PRECEDE
Isobell McConnell is among the latest readers to sign up for the free digital edition of Noosa Today. When she did, we discovered that she has quite a story of her own.
Locals with proud Scottish heritage – and anyone who loves a rattling good tale of achievement through adversity – will enjoy a new book recently released by Noosa-based author Isobell McConnell.
Isobell's novel, 'The Scottish Immigrant', is based on the life of her mother Elizabeth and is written as fiction using an author's imagination, charting the course of Elizabeth's extraordinary life and journey from her birthplace in Scotland and ultimately to the sugarcane fields of North Queensland.
It's the story of one woman's life of – to use Isobell's words – "challenge and determination", driven more than anything else by the "love of family" during a time of poverty, struggle and despair to create a new life in a new land.
'The Scottish Immigrant' is set in Scotland, Melbourne and North Queensland from the early 1900s through to the 1940s and paints a vivid portrait of Elizabeth's life from the coal mines of Scotland through to her arrival in Australia and at first onto the Depression-struck streets of Melbourne.
The book's publication is the fulfilment of a promise Isobell – who is 80 years young – made to her mother to set her story down in print, both to record her own family history and to give others a glimpse into the life of a 'New Australian' landing on foreign and unfamiliar shores.
"I am a first generation Australian so I did get first-hand information from my parents and aunts," Isobell says.
"We travelled to Scotland and visited Dysart and Wales to see where my parents came from.
"My husband Stewart and I are about to celebrate our 60th wedding anniversary and I am proud to have had the novel published as it has been a promise I made to myself and my mother so long ago."
Isobell McConnell will launch 'The Scottish Immigrant' on Friday 11 October at 11am at Tait Duke Community Cottage, Earl Street, Tewantin, with brunch provided. The novel is $20. Enquiries to Isobell on 0439 070 904.
To subscribe to Noosa Today for free simply by visiting noosatoday.com.au/digital-editions/