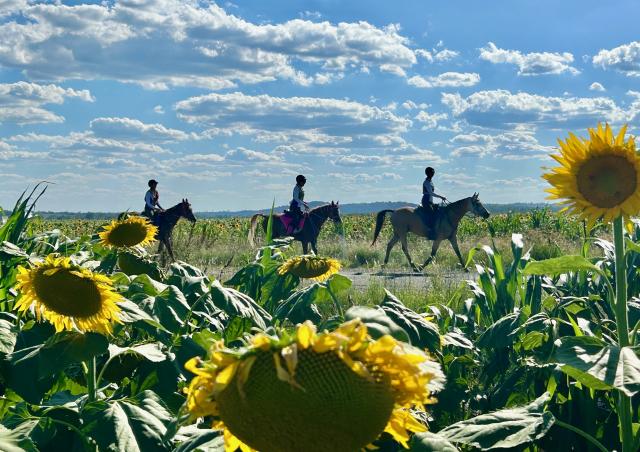 Erle Levey
We can confront a serious issue by bringing some light-hearted moments into our lives.
The McGrath Foundation has shown this with their Pink Test at Sydney Cricket Ground that was launched in 2005.
It's a similar story with the Bony Mountain Pink Ride for Breast Cancer.
Hosted by Warwick Trail and Endurance Riders Association, this month marked 18 years of holding the charity event – with just two years missed due to wet weather.
Queensland Endurance Riders Association (QERA) president Dick Collyer said the Warwick club was formed in the late 1960s.
This year's event was significant for a number of reasons.
It is not simply a fundraiser for the fight against breast cancer but an event that highlights awareness within the community of the threat the disease presents.
Nine Australians lose their life every day to breast cancer.
The fact is that cancer doesn't just happen to those diagnosed, it impacts the whole family.
The McGrath Foundation has become one Australia's most recognised and respected charities since Jane and Glenn McGrath's very public experience with breast cancer. And the Pink Cricket Test has taken on many different aspects to provide support to those facing cancer.
Bony Mountain also provides a chance for riders to judge the fitness of themselves and their horses for the year ahead.
This year's event was highlighted by the life membership awarded to club secretary Jenny Noffke, who has dedicated more than 35 years to the sport.
The award came as a complete surprise to Jenny, who said there were others who had been in the sport just as long.
Jenny explained that the idea of having riders and horses dress up in pink for the ride was about approaching a serious issue in a light-hearted way.
"I don't do this for me … I do it for all the women who have fought breast cancer and survived.
"And all the women who have fought and not won, in the hope that one day we don't have to fight.
"There are a lot of people who know someone or have someone who has suffered from breast cancer.
"Women have a one-in-four chance of getting breast cancer.
"Nearly everyone knows someone who has it or has died from it.''
Three weeks before the ride a good friend of Jenny's was diagnosed with the most aggressive form of breast cancer.
Jenny also tells of a sister who had breast cancer 30 years ago and is still a survivor. Her daughter has the gene as well.
"The genetic part is always going to be there – but if we can get early diagnosis and treatments – and maybe even a vaccine – it would save thousands of lives.''
Jenny has grown up with horses and started endurance riding in 1987, when the Warwick Trail and Endurance Club was based at Maryvale.
Living at Maryvale at that stage, she took part in the 50km ride.
Jenny started riding in England on her fifth birthday.
Her parents travelled widely as her father worked in heavy engineering.
As a result, Jenny got to ride horses in some weird and wonderful places. This included polo ponies on the beach in Nigeria at the age of 10, and then in Libya when Muammar Gaddaffi came to power.
Her grandfather was in the British cavalry and told the five-year-old Jenny to always put her horse first.
"He told me to look after your horse, and not to expect tea until your horse has been fed and groomed.
"He'd sit with me as I cleaned my bride and saddle – and point it out if I missed something.
"As a result I've always been super-cautious and careful with my gear and looking after my horse.
Jenny's advice now is ride to your horse's capabilities.
"From a people perspective … go out there and have fun. Enjoy the horse and scenery – don't worry about where you're coming.
"Everyone likes to win or place but the most important thing is to do that distance and be fit enough to be able to go out and do it again.
"With endurance riding, to complete is to win.
"To get through under whatever conditions, is to win.
"You need to adapt. One lady came through just four minutes before cut-off time – she was in so much pain and rode the last 50km in agony but she got through.
"They're the heroes – that's courage.''
The 2023 Pink Ride was the perfect opportunity for a lot of riders to get 20km and 40km rides under their belt, Jenny said.
"We do so many rides over those two days, but it's a flat track with one small undulating hill.
"It gives the more experienced riders and horses a feel of how things are going before the ridgy-didge points start.
"Is the horse and rider's fitness at the level it should be?
"This weekend gives them a feel of the future.''
With horses as well as riders and supporters being encouraged to show their backing of breast cancer by dressing in pink it allows some to really go to town.
"Some of the younger riders did a marvellous job,'' Jenny said. "The way they painted their horses pink was brilliant.
"They are putting a light on this serious issue and getting a bit of fun out of it as well.''
Since its inception, the ride has gone from strength to strength, with competitors from throughout Queensland and Northern New South Wales taking part.
There were 140 entries overall, in 20km and 40km events on both Saturday afternoon and Sunday morning, as well as a six-km on the Saturday.
Saturday's 40km event saw 50 entries with 88 percent completion rate while Sunday's ride had 42 entries and a 92 percent completion.
The Bony Mountain Pink Ride is always an enjoyable weekend, and momentum for the year ahead in endurance riding is really building.
Riders were excited at the prospect of what the year is about to deliver in regard to some enormous rides.
"People have new horses,'' Jenny said, "and it's the perfect opportunity to see how they respond in a semi-stressful state with other horses around.
"They are taken out of their comfort zone, so it's a good chance to see how they are travelling in a foreign environment.''
Jenny said the feeling in 2023 has been more relaxed as last year everyone was still observing Covid protocol and there was anxiety about flooding.
"This year, everyone seems happier. They understand that Covid is here to stay in one way or another, and we're getting our heads around it now – it's not such a big deal anymore.''
The 2023 endurance riding program involves getting riders and horses qualified for the Tom Quilty 2023 in June at Imbil.
Many are also still deciding or planning to do the historic Winton to Longreach ride a month later. That ride is to celebrate 100 years of the Queensland Country Women's Association but also recreate the rides of the 1980s and '90s to promote the Stockman's Hall of Fame.
"There's a sense of excitement about the Tom Quilty and it seems to be driving everyone's motivation to get their rides up and stay fit,'' Dick Collyer said.
"A lot are talking about the Easter Riding Carnival at Imbil over Easter that includes a 320km marathon, and the Stirlings Classic, also at Imbil, in May.''
From a spectator's point of view, the Bony Mountain Pink Ride highlighted the way people networked in regard to horses but also for personal support and for issues such as breast cancer.
The venue was spectacular. The conditions were beautiful, especially for the Sunday ride that set out at 5am.
The Saturday rides were put back 30 minutes due to the warm weather, with the 40km event starting at 3pm.
You couldn't help but be amazed by the young riders – some aged six, eight, and 10 years old who took part in the 6km ride on early Sunday morning.
Then 10 and 12-year-olds competing in the 40km event who are already looking forward to competing in much longer events this year.
"There's always been a reasonable cohort of junior riders,'' Dick Collyer said.
"It's not a sport that appeals to a lot of kids… it's not fast, play the game and win as a team but rather it's a sport where you can test yourself.
"We see instances where the whole family is coming through, and that's a good thing – mum and dad supporting or tagging along.
"We look to provide a safe environment. If you can look after a horse, you would hope they understand responsibility.
"They have to do a lot planning, thinking, and saving money.''
During the weekend we met riders and families who had driven from more than four hours away, after school.
They simply got in the truck, drove down and set up camp for the night.
Then there were fly-in, fly-out mining workers who looked forward to riding as a way of grounding themselves.
Volunteers came far and wide as well. People such as Ray Vlad from Hamilton in Brisbane, who used to work at the shipbuilding yards on the Brisbane River.
Dressed in his distinctive pink flamingo shirt and cowboy hat, Ray has been around horses for many years and was doing the temperature, pulse and respiratory (TPR) checks.
Born in Hungary just after World War Two, right near the border with Ukraine, his playmates would be from Ukraine and they could just jump across the border any time they wanted to play.
Ray's enthusiastic engagement with the horses and riders is an example of how contagious the energy among volunteers at Bony Mountain can be.
The Pink Ride highlighted how happy everyone was to be back riding. The energy was there, and people were up for a story.
They were enjoying each other's company, and sharing their ambitions for what they want to achieve this year.
Riders of all ages were organised and committed to what they're doing, which showed so much respect for their horses.
In addition, the willingness and professionalism of volunteers, led by veterans of the sport such as Jenny Noffke and Dick Collyer, demonstrate the ongoing commitment to make important events like this possible.