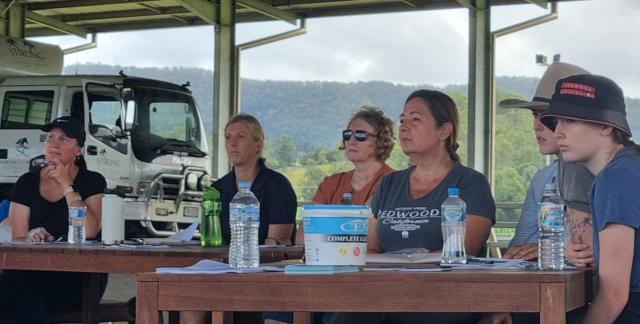 Erle Levey
The past year for endurance riding has been much like the sport itself … be ready for the unexpected, be able to address the challenges, and enjoy the good times when they come along.
The times, when horse and rider are in perfect balance with each other and the environment for an experience like no other.
It has been year impacted by flooding and unseasonal wet weather as well as further outbreaks of Covid-19.
Queensland Endurance Riding Association had to contend with 11 events being cancelled, one cancelled part way through and others re-scheduled.
Despite all the difficulties caused by weather this year, ride organising committees provided 27 QERA events that supported a total of 1932 entries.
Queensland riders competed successfully at the 2022 Tom Quilty Gold Cup at Tooraweenah in western New South Wales.
Gympie and Wide Bay riders won three of the four Queensland state championship titles at Herberton on the Atherton Tablelands.
Added to this, four riders achieved the Triple Crown – the same rider-horse combinations completing the two major titles and a QERA marathon in the same year.
Riders are now excited about what 2023 holds including the re-creation of the historic Winton to Longreach ride, Queensland hosting the Tom Quilty 2023, and the state championships later in the year.
The Tom Quilty Gold Cup is Australia's national endurance championship event.
The 160km ride is held throughout different states each year.
In 2023 it was due to be held in Victoria but just seven months out, the host club decided they could no longer hold the event.
Stirling's Crossing Endurance Club has now been invited to hold it on June 23-25, after successfully hosting the event in 2019.
This is a massive task. Most clubs have 18 months to organise a national event of this standing yet Stirlings Crossing has 213 days.
The club is committed to supporting the local area and anticipates 250-300 competitors, each of them bringing a support crew.
Over the coming months the club will be calling for support including volunteers for all sorts of activities.
After all, who wouldn't like to be there at midnight waiting for 300 horses to come racing past them.
Reflecting on the year, Stirlings Crossing club president Kim Moir said that when the heavens opened in March, many rides in South East Queensland including the Stirling Starter, were a washout with the forestry tracks severely damaged or simply too dangerous for horses and riders.
"As tracks and ride bases were repaired, more than 300 competitors attended the club's traditional Easter Carnival and similar numbers at the Stirling's May event.
"The season ended on a high note when the 2023 Tom Quilty was awarded to the Stirling's Crossing Club after the Victorian Endurance Riders Association announced it was unable to host the event.
"After a few years of disruptions with Covid, and then the bad weather this season, we're really looking forward to a successful 2023.
"There's a lot of excitement building as we head towards such a showcase event in our sport like the Tom Quilty Gold Cup."
ALL THE RIGHT MOVES
The past year saw the second education weekend at Stirling's Crossing Endurance Centre attract about 60 enthusiasts from all ages and all backgrounds, all skills and proficiencies – from five-year-olds to those of seven decades and more.
They were record numbers attending the weekend in January – from experienced young riders to 60-year-old first-timers. There were strappers, handlers, veterinarians, horse owners, breeders and trainers.
During the course of the weekend participants are assisted in many aspects of endurance – from care and preparation of horses to different facets of how to get the best out of events.
Truly inspiring this year was Geoff Monk from Bribie Island, who is blind. Yet that was not going to stop him from embracing this exhilarating sport.
Experienced endurance rider Virginia Barber had been assisting Geoff for the four months up to his first endurance riding experience.
"I'm an absolute newbie," he said.
"Virginia was quite keen to take on a blind rider … it was a risk but the risk was all mine.
"For a blind person it's spectacular.
"
The Education Weekend will be held on January 28-29 at Stirlings Crossing, it will offer a 10km and 20km introductory ride and possible a 40km as well.
PRETTY IN PINK
There are a few equalisers in this life … and cancer is one of them. Nearly everyone is touched by this disease which comes in many forms.
The 2022 Pink Ride for Breast Cancer at Bony Mountain mid February provided people with the chance to learn more about equestrian endurance riding and take part in a number of events.
It also provided the chance to dress up in pink and have fun – but the overriding thing was the support of breast cancer awareness.
More than 150 riders took part over the two days at the Bony Mountain recreation reserve and polo club, near Warwick.
They took part in everything and anything from 6km rides to 20km and 40km.
There were so many stories about people being personally touched by cancer and those who have survived, wanting to take part in remembrance of those who lost the battle.
Of all the uplifting souls encountered at the Bony Mountain Pink Endurance Ride, every one had a personal story.
A mum, friend, auntie, sister, grandma … all touched by breast, or another form of cancer, at some stage.
But these riders also shared a common desire to cherish the fun side of life, to celebrate lives, and loves, lost, or show support for those travelling a tough path through their cancer journey now.
They also want to show gratitude for the doctors and scientists who are fighting to find a cure for this disease.
The efforts to 'have fun' ranged from the outrageous and creative – pink tutus and hand-painted horses – to the subtle and reflective, such as a pink shirt or socks and commitment to the ride.
They were seeking to either support, or be supported, by being present and actively participating in a beautiful and meaningful event.
The Pink Ride enabled riders of all ages and levels of experience to be there for each other.
The brainchild of Warwick Trail and Endurance Riders Club secretary Jenny Noffke, it is named in honour of Anne Jones … a great endurance rider and secretary of Queensland Endurance Riders Association (QERA) for 17 years as well as being involved with the Australian Endurance Riders Association.
EASTER RIDE GOES AHEAD
The annual Easter at Stirlings Crossing endurance horse ride was a welcome return to the sport, after the devastating floods that impacted much of southern Queensland and coastal New South Wales, right down to eastern Victoria.
Restrictions had been placed on most states due to the flare-up of the Covid-19 pandemic since late last year.
Just getting to the starting line was an achievement in its own for the organisers of the event and the band of willing volunteers.
The four-day event based at Stirlings Crossing Equestrian Centre saw more than 300 riders attend for the series of 12 rides through the forest and around the picturesque Mary Valley town.
The floods had left their mark on roads, creek crossings and infrastructure.
That's what these endurance challenges are all about – it's what makes them so endearing.
The relationship between horse and rider. The trust, confidence-building, care and consideration for each other.
Kelsey Irvine was first across the line and overall winner of the 240km marathon, riding Karma.
Kelsey has been a consistent performer at Stirlings Crossing, having taken out the 100km event last year on Karma as well as winning the 2019 State Championship in the 160.0km ride at Bowen.
Karma, which took out best managed horse for this year's marathon, was the last mare bred by Kelsey's late grandfather Alwyn Torenbeek.
Alwyn grew up in the Rockhampton area and became a bush legend as drover, horse whisperer, endurance rider, bronc rider and author.
BEAUTY OF THE BUSH
Waking in the Australian outback before the birds rise is a serene experience.
As winter approaches, fog lies low in the valleys, shrouding the already mystical surrounding hills with a special kind of magic.
As dawn's first light stretches through the valleys, the fog lifts to reveal a way forward for the horses.
These moments in endurance riding are often what brings the riders back time and time again.
That was the setting for the 2022 Stirling's Classic equestrian endurance ride at Imbil.
The weekend was a matter of persistence and commitment as organisers and riders looked to the skies.
It was on, then postponed due to a persistent rain and flooding. Then it was rescheduled but only if the weather improved and if enough veterinary specialists were able to attend.
The vets are needed to check the health and fitnesses of horses during the events.
By the Tuesday evening it was decided to go ahead.
Stirlings Crossing Endurance Club president Kim Moir said the tracks were drying as the week progressed.
"The main thing was getting the vets,'' she said. "To get them at the last minute was difficult.
"They had committed to the initial ride earlier in May but then when we had to postpone it they may have been on roster or had made other plans."
The numbers were good for the 120km Stirlings Classic, with 63 participants in the 120km event and a 76 percent completion.
The 40km event on the Saturday saw 18 riders and 100 percent completion.
Virginia Barber and Mark Nimon were equal first in the Stirlings Classic, and as middleweight and heavyweight riders.
Line honours went to Kaylea Maher as first rider in, but also winner of the lightweight division on Shardell Jaegers.
Emma Ireland was best junior, riding Stirling's Django, while Neeve Whittaker was second on Drumlin History, and Modena Schofield, third, on Amarin Brindi.
Best conditioned horse in the heavyweight division was La Belle Amour, ridden by Mark Nimon.
Winner of the best conditioned middleweight, but also the the Banjo Memorial Trophy for the best of the best conditioned horse was Burralga Athena, ridden by Virginia Barber.
WONDERFUL WIDGEE
It was one of the final chances for endurance riders to compete before the Tom Quilty 2022 was held at Tooraweenah in New South Wales later in July.
And Wunderful Widgee lived up to its name in many ways.
It was the second ride after a break of six years at the endurance club and the event was held in near-perfect conditions.
Kim Moir of Widgee Endurance and Trail Riders Club said the number of participants was good, considering it was so close to the Quilty.
As well as 40km and 80km events, there was a 20km ride as an educator – a chance to experience endurance riding.
The event highlighted that having a great volunteer base makes it so much easier for officials.
While the course through Widgee and Brooyar State Forests was challenging at times, due of the climbs through the ranges, the track was firm underfoot.
This saw good completion rates in all events – the 80km saw 42 entrants with a 92.6 percent completion.
First in the heavyweight division was Arron Turnbull of Wyreema, riding Danic Park Mackenzie (best conditioned), from Ed Jones on Zara te and Angela Waldock riding Concord.
Sarah Carroll was first in the middleweight division, riding My Name is Earl, with Fiona Fenech second on Sweet Honesty Molleeh (best conditioned), and Jo Barsby on Dumaresq Warrior in third place.

Line honours went to Karen Winkel on Shardell Azeem, who won the lightweight division.
In the juniors, Gympie rider Tahlea Lochtenberg was first, on Matta Mia Kassanova, from Glenvale rider Mary Duncan on Flemingo Klaus (best conditioned), and Indra Hofstee riding Royal Rose Malibu.
TQ 2022 HELD DESPITE WEATHER
For the past two years endurance riders have battled the impact of the Covid-19 pandemic.
This year it was a series of rain events that led to trail damage and flooding throughout Australia's eastern states.
So it was with enthusiasm and apprehension that riders set off for the 2022 Tom Quilty Gold Cup at Tooraweenah in western New South Wales.
Queensland Endurance Riders Association (QERA) members were well represented in what is regarded as Australia's most prestigious endurance event, with about 30 percent of the 186 participants coming from Sunshine State.
Winter rains threatened to postpone the ride but the decision was made to go ahead.
It saw a completion rate of 69 percent for the 160km ride.
This was the highest in a long time and, while the course was challenging, indicated the care the riders took with their horses.
Times were much slower than usual but at the completion riders were happy with their achievement.
Roy Barsby, from Wyreema on the Darling Downs, took out the heavyweight division riding Dumaresq Suleiman.
Renee Kelso from Bonnybrooke Stud at Curra was third in the middleweight division, riding SB Defino.
In the Standard Restricted Teams event the High Spirits group of four riders was placed second.
The High Spirits riders consisted of Renee Kelso (Medium Weight) riding SB Defino, who was placed third in her division; Mary Duncan (junior) riding the young gelding Bonnybrooke Samarai, and placing sixth junior overall; Victoria Bice (lightweight), riding OSO Meeka (mare), was placed seventh in the lightweight division; and Peter Holmes (middleweight) who, riding Spot (stallion), retired at the 144km mark when hit with illness.
RIDING HIGH AT STATE TITLES
Wondai rider, trainer and endurance horse breeder Virginia Barber took out the Queensland Endurance Riding Association State Championship in August.
Not only does Virginia encourage other riders to participate in the sport, she is now a state champion
Held at Tepon Equestrian Park, Herberton, on the Atherton Tablelands, the championships saw strong representation and results from southern Queensland riders.
For Virginia, riding La Belle Amour, they won the 160km middleweight division, best conditioned horse, and state title.
It was a double, double success as her daughter Georgie, and fellow Mainstreme rider Ellie-Rose Bowden were equal first in the junior division.
Kilkivan's Shelley Chapman of Shanelli-Park Endurance, won the lightweight division, riding Box Hill Nitro, and also won best conditioned horse.
The championships also saw four riders achieve the sought-after Triple Crown – Ellie-Rose Bowden riding Silver Centurion, Georgie Barber riding Concerto, Tracey Eastaughffe riding Moondarra Elton and Alana Simpson riding Meea.
In order to earn the Triple Crown, one rider, one horse combination must complete a QERA affiliated marathon event, the Tom Quilty Gold Cup and the QERA State Championships all in the one year.
What made it more remarkable was Ellie-Rose and Georgie were placed in each event.
HORSES FOR COURSES
It was a matter of horses for courses as endurance riders were faced with different conditions at Charleville and Murrumba Downs events.
After three years and two last-minute cancellations, the Murrumba Downs endurance ride finally got under way.
And organisers have already started to plan next year's ride for the same time – the second weekend of August.
As opposed to the flat and fast Charleville ride earlier in the month, Murrumba was held in near-perfect conditions.
Imbil father-and-daughter team Olly and Tahlia Lochtenberg had a wonderful ride in the 81km event, finishing in the winner's circle in both their divisions – heavyweight and junior.
"They had not held a ride for three years,'' Olly said, "and they finally managed to get a ride on the calendar even though the grounds had been under water twice this year from the flooding rains."
Heavyweight: 1. Olly Lochtenberg, Matta Mia Dayimi.
Middleweight: 1. Matthew Sample, Stirling's Thor.
Lightweight: 1. Karen Winkel, Shardell Azeem.
Junior: 1. Tahlea Lochtenberg, Matta Mia Kassanova. 1. Neeve Whittaker, Dumaresq Warrior.
FLAT, FAST COURSE AT CHARLEVILLE
Riders experienced a different set of conditions at Charleville early this month with a flat and fast course that tested riders and horses.
Whereas horses in coastal regions are trained for hilly conditions, in the red dirt of Western Queensland required them to use a different set of muscles.
There were 20 starters and a 75 per cent completion in the 80km event.
However, it was an unexpected encounter on the course between horse and wallaby that saw Joey Long riding Maverick being vetted out on the second leg.
The wallaby literally ran into the horse and although he completed the second leg Maverick had developed an ache after cooling down.
So while Joey was taken out by a joey, winner of the middleweight division Laura Axsentieff of Longreach was riding a horse named Joey.
Wondai's Mark Nimon took out the heavyweight division while Kilkivan's Shelley Chapman was first in the lightweights. Eadie McWilliam from Toft Endurance won the juniors.
SHAPE OF THINGS TO COME
The final Queensland Endurance Riders Association (QERA) event for 2022 at Inglewood in November provided the chance to look forward to an exciting new year.
The Bremervale Justice Challenge 6 at Inglewood Showgrounds was hosted by Oz Endurance. It saw a good attendance and fine weather with rides starting in the afternoon and continuing into Saturday night.
What the weekend provided was the opportunity for riders to participate in Federation Équestre Internationale (FEI) events in order to qualify to compete internationally.
The event also provided the opportunity for officials, riders and strappers to experience a travelling checkpoint, a new experience to many and one that will need to be completely understood for the Winton to Longreach event in July 2023.
The iconic ride is being revived for one year only on 29-30 July to celebrate 100 years of the Queensland Country Women's Association.
The first ride in 1980 featured some great endurance names such as R.M. Williams, Jack Makim, Jeff Marshall and artist Hugh Sawrey, along with eventual winner Carmen Batterham.
The rides through the 1980s were to engender support for the Australian Stockman's Hall of Fame and Outback Heritage Centre at Longreach.
Riders covered 200km on the first day and a further 50km on the second.
No whips or spurs are used and any in- humane handling or abuse of horses results in immediate disqualification. Everything is done to protect the horses.
Veterinary check points are established every 40 kilometres along the track, as are compulsory rest periods for horse and rider.
While the 2023 ride will honour those early events, the main reason for its re-emergence is to celebrate 100 years of the Country Women's Association (CWA).
Under that format riders are travelling point-to-point instead of the more popular format of riding in out-and-back loops or legs and returning to a base camp at the end of each for the compulsory veterinarian checks on the health and condition of the horses.
The Winton to Longreach ride is 250 km over two days with course stewards, vets and support crews for competitors setting up new camps along the way.
The Inglewood event was to give riders and administrators an indication of what is done and the requirements of a travelling checkpoint.