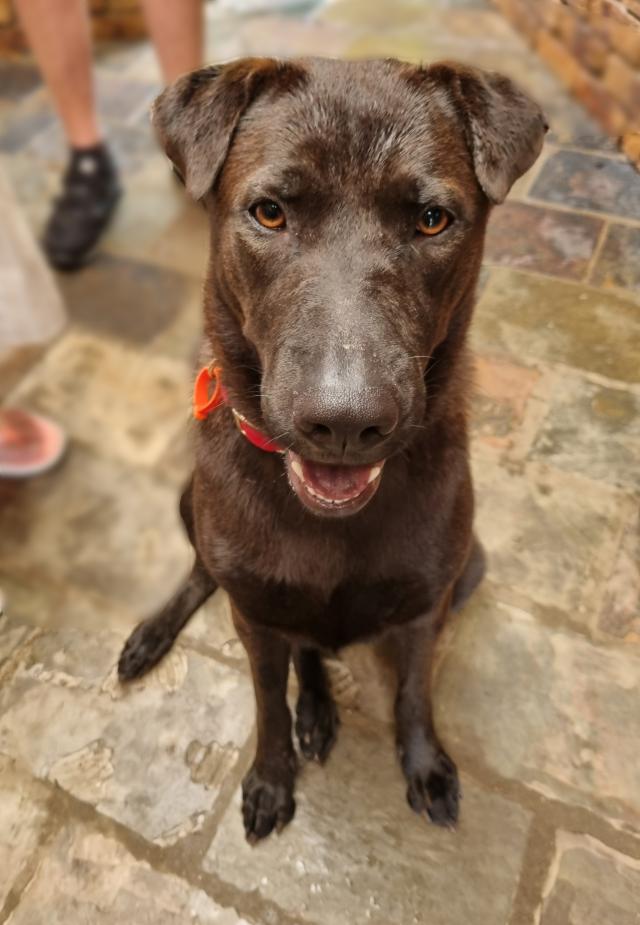 PTSD Dogs Australia has collaborated with Precious Paws Animal Rescue (PPAR) and adopted a new recruit into their assistance dog program
The dog will now be trained to become a loyal and supportive assistance dog for a veteran or first responder suffering with Post-Traumatic Stress Disorder (PTSD).
Willow, a 10-month-old Labrador/Sharpei cross, was facing death before being rescued from a local pound by Precious Paws and placed into their foster care program.
She was on death row and just 48 hours from being euthanised at the pound.
Willow's future is now looking much brighter after PTSD Dogs Australia head trainer and chief executive officer Angie Weeks contacted the rescue organisation, looking for a new dog to join their assistance dog program.
With her good manners and calm temperament, Willow blitzed her assessment and was found to be just the dog PTSD Dogs Australia were looking for.
Precious Paws Animal Rescue spokesperson, Kerrie Williams said "at Precious Paws we prepare every dog for its new life and are very diligent about where they are placed for their forever homes. We are delighted to partner with PTSD Dogs Australia and believe Willow will be amazing in her new role. From Pounds to Paradise is more than our motto, it's our ethos".
Willow, who has received basic obedience training from her foster carer through Precious Paws, will now undergo further training to prepare her for her new role as a much-needed assistance dog.
PTSD Dogs Australia, a local charity based on the Sunshine Coast, rescues dogs from shelters and pounds, trains them to become highly-skilled assistance dogs, then places the dogs, at no cost, to a veteran or first responder.
The dogs offer unconditional love and constant companionship to their handler. Each handler has very different needs, so the dogs are trained to meet the specific requirements and complex needs of their handlers.
Some have night terrors, and require the dog to turn on a light, rouse them from their sleep, and apply deep pressure therapy to comfort them, or they may suffer from physical injuries that prevent them from bending down to retrieve items off the ground, so the dog is trained to retrieve those items for them.
They can even be trained to retrieve washing from the washing machine, load it into a laundry basket, drag the basket to the clothesline and pass each item to their handler.
Receiving an assistance dog is life-changing for these veterans and first responders who often suffer from anxiety, depression, panic attacks, night terrors and more. In some cases, receiving the gift on an assistance dog can even be life saving.
The organisation is almost entirely volunteer run, and relies on donations, grants and sponsorships to carry out their great work. If you'd like to donate to PTSD Dogs Australia, or get more information visit ptsddogs.org.au