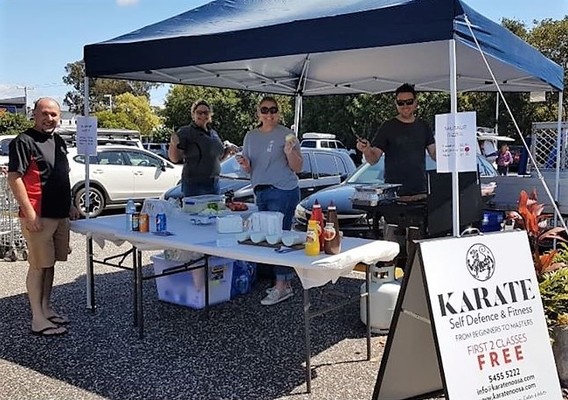 By Abbey Cannan
The Sunshine Coast Martial Arts team have been on a mission to fundraise $10,000 to send their team of athletes to the National Karate Championships in Tasmania.
Assistant coach and athlete Victoria Taylor said the Noosa Karate Clubs fundraising team has so far raised almost $7000 from events such as local BBQs at Dan Murphys, Sunshine Coast Colour Run, working at Noosa Triathlon, Mooloolaba Ironman, Velathon, competition canteens, trivia nights and raffles.
"It's important for us to give everyone a chance to achieve their goals in life. By working together, our little club is making dreams come true and giving karate students of every age a chance to compete at the elite level," Victoria said.
"Our team of 26 athletes will compete at the Queensland State Titles on 16 and 17 March in Cleveland. This is the gateway event into the Queensland Squad team, with a selection process accepting athletes into the team. Each of the categories only accept six athletes per state to represent at the Australian Karate Nationals."
In August this year, the Karate Nationals will be held in Hobart, so Noosa residents will be seeing a lot of these karate kids as they work to meet their ambitious fundraising target.
In 2018, 29 students of the club were selected to represent Queensland at the Australian Karate Championships and the Noosa club was named Queensland's Best and Fairest karate club for the third year running.
The Karate Clubs upcoming fundraising events include a barbecue at Dan Murphys Noosaville on the 23 and 30 March, barefoot bowls on the 5 May and a trivia night on 16 June held at the Saw and Mill Sports Club in Cooroy.